Review: Vittorio Grigòlo Brings Broad, Cultural Program of Italian Composers to Santa Monica
Italian tenor Vittorio Grigòlo lit up the Broad Stage.
Part of my architectural education at California Polytechnic State University (Cal Poly), San Luis Obispo included spending a year studying abroad in the Italian city of Florence during the mid 1980s. As a 25-year-old and coming from a humble, immigrant Latino family (I was born in Cuba in 1960.), opera was really not on my radar due to my working-class upbringing.
Unbeknownst to me as a child, several Warner Brothers cartoons had planted in me an "opera seed" as I watched several of their shorts, which included many funny, wonderful and very creative uses of opera stories and music in their productions. It was not until I experienced L.A. Opera's production of German composer Richard Wagner's opera Tristan und Isolde in 1987 – with set and costume by iconic gay, British artist David Hockney – that I really fell in love with the art form.
Fast forward almost 30 years and I have taken another Italian trip on Tuesday, July 26, at the beautiful Broad Stage located in the Santa Monica College Performing Arts Center. There, I fell in love with opera once again at the opening of the 2016/2017 Celebrity Opera Series starring Italian tenor Vittorio Grigòlo with special guests: Romanian soprano Mihaela Marcu and maestro Alberto Meoli conducting a fantastic group of local musicians making up the accompanying orchestra.
The elegant evening began with a pre-concert reception that included some fine Italian wines and an outstanding buffet that was scarfed down by anyone with any culinary sense. It included delicious millefoglie pastry puffs, stuffed with pesto and tomatoes, along with chicken and tender beef skewers.
Decked out in elegant black attire and tuxes, the orchestra began with a playful rendition of the overture from the opera Il Barbiere de Siviglia. This overture's basic structure was adapted and used as the background music for the hilarious Warner Brother's 1950 cartoon short "The Rabbit of Seville," one of my favorites, so I took this as an omen of enjoyable things to come.
Greeted with warm applause from the audience, Grigòlo entered the stage in an elegant, all-black tuxedo combination looking svelte and fit with his signature thick black mane of hair combed back. He began with a fine rendition of "Questa o quella" to warm things up, to be joined later by the beautiful and talented Marcu on "E il sol, dell'anima … Addio! Addio!" – both pieces from the opera Rigoletto.
Born in Arezzo, Italy, and raised in Rome, Grigòlo began singing by the age of 4 and has become at 39 years old, one of the most popular tenors in opera. His physical athleticism, vocal power, acting chops and versatility are sought after in the leading opera houses around the world including L.A. Opera where in 2011 he starred in French composer Charles Gounod's Romeo and Juliet to rave reviews.
The lovely Marcu hails from Romania, the country that has given us another great soprano Angela Gheorghiu whom I had the pleasure of seeing several times in Los Angeles and reviewed her performance last year at the Broad. Unlike the legendary Gheorghiu, the young Marcu is relatively unknown in the United States because her work has been featured mostly in Europe, but judging from her performance on Tuesday, things are going to change very soon given the powerhouse performance she gave in solos and in duets with Grigòlo. Her pianissimos were strong, soft, beautifully crafted and projected easily to the rear of the theater while her legatos were thin, high and pure.
To compliment and give a break to the singers, the talented orchestra under the direction of maestro Meoli inserted several wonderful orchestral pieces throughout the evening, including a beautiful rendition of Italian composer Antonio Vivaldi's "La primavera" from his famous four-part piece Le Quattro Stagioni. An early orchestral work from the baroque period, it was a nice surprise, given that the rest of the program was dedicated to 19th century Italian composers such as Giuseppe Verdi, Francesco Paolo Tosti, Giacomo Puccini and Gioachino Rossini among others. The emphasis on the Italian composers is due to nature of this specific program that was being launched that night and will eventually travel throughout Italy according to Grigòlo, who still retains that wonderful Italian accent when he speaks.
The program consisted of 18, mostly short pieces from the Italian repertoire, including Grigòlo's signature version of "Una furtiva lagrima" from the opera L'Elisir d'Amore by Gaetano Donizetti, which he nailed with a passionate, dramatic and vocally masterful performance. Other highlights by Grigòlo included the famous "La donna e mobile" from the opera Rigoletto and "Che gelida manina" from the opera La Boheme by Puccini. The show-stopping "Un di, felice, eterea" allowed the audience to feel, hear and watch the wonderful chemistry that these two exceptional artists bring to the opera art form while the always favorite "Brindisi" song made a big splash – both pieces from the opera La Traviata by Verdi
After a standing, heartfelt ovation and several curtain calls, the artist returned the accolades with a slew of encores that included the iconic Neapolitan song "O Sole Mio," which brought down the house. Needless to say that the audience left fully satisfied from this delicious, romantic tour of Italy via its music and culture without the need for a passport.
Video Slider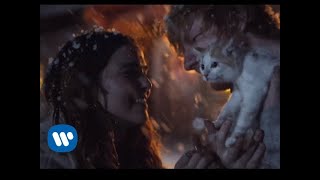 Win Tickets to See Ed Sheeran at the Rose Bowl
Ed Sheeran is back in Los Angeles, and your chance to see him perform is at the Rose Bowl in Pasadena on Saturday, Aug. 18. We are giving away complimentary tickets to the show. For a chance to enter to win, email us at
[email protected]
with "Ed Sheeran" in the subject line and tell us why you would like to go.