Review: Vibrant and Enjoyable – "These Paper Bullets!"
Bea (Nicole Parker) and Ben (Justin Kirk) in "These Paper Bullets!" (Michael Lamont)
For over 400 years, Shakespeare's plays have been performed over and over again, defying Father Time through the universal themes touched upon by his brilliant words. Within the past half-century, however, Shakespearean productions became so ubiquitous that a new theater tradition emerged: transporting Shakespeare's works into other time periods, keeping the fabric of the plot but enlivening the Olde English dialogue with some anachronistic flair or another. Though that strategy must have once seemed quite fresh, this revisionist script-flipping now feels just as rote and commonplace as the bard's original work. All that is to say: If you feel like staging a Shakespeare re-imagining in the year 2015, it had better be a good sight more than "sound and fury signifying nothing."
Undeterred (or unaware) of this stacked deck, playwright Rolin Jones and director Jackson Gay ("The Intelligent Design of Jenny Chow") bring Shakespeare's brilliant comedy of manners "Much Ado About Nothing" into Britain's swinging '60s with "These Paper Bullets!". Originally staged at the Yale Repertory Theater in 2014, Jones and Gay brought aboard some serious star power with the inclusion of Green Day frontman Billie Joe Armstrong as the project's original composer. Now, after building steady buzz for its madcap collegiate staging, "Bullets" gets a grand West Coast premiere at the beautiful Geffen Playhouse in Westwood.
Now, insofar as Shakespeare interpolations go, "Bullets" has an advantage over many other productions right off the bat because, despite fast-forwarding the action a number of centuries, its story still unfurls in grey, old England – as much as things change, they stay the same. Of course, the Britannia of London circa 1964 is quite a bit different than during King Edward's reign. The play opens with "mod" sweeping the country, synergizing risqué new fashions with thumping rock 'n' roll music to form a bonafide youth movement which propelled acts like the Beatles and the Rolling Stones to prominence. Here, the mop-topped, top-charting quartet dominating the airwaves is named the "Quartos," a boy-band comprised of various "Much Ado"-analogous characters. Claudio becomes charming frontman Claude (Damon Daunno), Balthasar is snide guitarist Balth (Lucas Papaelias), Don Pedro is giddy drummer Pedro (James Barry) and Benedick is now perverted bassist Ben (Justin Kirk).
The band returns home from a wildly successful tour of the United States in order to record their latest album in a swank, mod-modified hotel on London's Carnaby Street. There, the "Much Ado" structure kicks into full gear, as Claude meets and is instantly smitten with Twiggy-esque It-girl Higgy (Ariana Venturi—here playing the "Hero" role), while bachelor Ben falls head-over-heels with his sassy verbal sparring partner Bea (Nicole Parker, the Beatrice surrogate). Before long, Ben and Higgy are due to be married, while the rest of the band goes about setting up Ben with Bea via a series of implausible, but true to form comedia dell'arte-style pratfalls. Of course, trouble arises when jealous former band-member Don (Adam O'Byrne) decides to get back at the Quartos by tricking Claude into thinking the object of his desire has cheated on him.
If you've seen the original "Much Ado" (or any comedy of errors, for that matter) what follows will not be much of a surprise – suffice it to say, all's well that ends well – but even the seemingly unorthodox "Bullets" feels oddly familiar, not in terms of plot, but in its presentation. Every time there's a winking in-joke regarding the fact that the characters are aware they're in a rendition of a Shakespeare play (how original!) I couldn't help but feel my patience lull. The simple fact is, as a theatergoing audience, we've seen it all before ("Othello" in 1830s Haiti! "The Tempest" in 1920s Australia! "Macbeth" on the international space station in they year 3044!), which drains much of the production's humor of its novelty.
With that basic truth out of the way, however, there remains much to enjoy about "Bullets." The performances are energetic and roundly excellent, with special kudos due to Parker, who gives a bravura physical performance as Bea, and O'Byrne, who imbues his Don with glowering intensity. Behind the scenes, the solid competence continues with Armstrong's infectious score, Kevin Williamson's deft choreography and Jessica Ford's spot-on mod costume design.
On the whole, "Paper Bullets" may be nothing new, but it does what it sets out to do with vibrant efficiency. If Shakespeare were to magically return from the grave, I suspect this British remix might be one of the contemporarily-twisted stagings of his work that would offend the Bard's sensibilities the least. After all, Queen and country come first, even now.
"These Paper Bullets!" runs through Oct. 18 with performances Tuesdays-Fridays (8 p.m.), Saturdays (3 p.m. & 8 p.m.) and Sundays (2 p.m. & 7 p.m.) at Geffen Playhouse. Tickets start at $51 and can be purchased by visiting geffenplayhouse.com.
Video Slider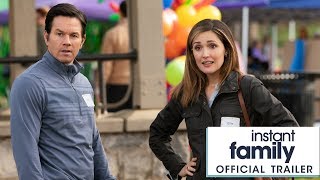 Win a Blu-ray + DVD + Digital Copy of Instant Family
Everyone everywhere can now enjoy Instant Family on Digital and on Blu-ray™ Combo Pack, and DVD on March 5 from Paramount Home Media Distribution. For a chance to enter to win at random, please email us at
[email protected]
with "Instant Family\" in the subject line and let us know why you\'d like to win a copy. This contest ends March 25, 2019.