Review: Valerian and the City of a Thousand Planets Piles on the Excess as Luc Besson Films Usually Do
Dane DeHaan and Cara Delevingne star in Valerian and the City of a Thousand Planets. (Vikram Gounassegarin)
Most Americans will not approach Valerian and the City of a Thousand Planets as a comic book film, but that is simply because they will be unaware that it is based on a popular French series that is mostly unknown in America. So much for a reprieve from big-budget comic adaptations after Guardians of the Galaxy Vol. 2, Wonder Woman and Spider-Man: Homecoming, which may be very good examples of the genre, but at a certain point, a sense of overload does set in.
Yet even despite its comic book origin, the film is more a Luc Besson film than anything else. The French director puts his inimitable stamp on everything he does. Like Baz Luhrmann, Besson is incapable of making a film that is not clearly both his own and pitched to a level of overwhelming excess.
Valerian and the City of a Thousand Planets stars Dane DeHaan (the Green Goblin from the misbegotten The Amazing Spider-Man 2) and Cara Delevingne (the model and Suicide Squad actress) as the intergalactic special operatives Valerian and Laureline, who must defend the 700-year-old space station that acts as home to a vast number of alien species when it comes under attack from the remaining survivors of a destroyed planet who kidnap one of the station's human commanders (Clive Owen, hopefully collecting a heavy paycheck for the role). The plot ends up revolving around a small, lizard-like alien creature that is more adorable than one would assume given its description and the discovery of what actually happened to the doomed planet.
As Valerian and Laureline, both DeHaan and Delevingne are not quite the conventional comic book heroes one would expect. Valerian is a wisecracking womanizer along the lines of Chris Pratt's Star-Lord, but DeHaan is far slighter and reads as far younger. DeHaan may be over 30, but looks a decade younger. His boyishness might be right as a comic book hero, even if it doesn't fit this particular character. Delevingne, in contrast, has a weariness and ennui about her that makes her seem older and more mature than her 24 years. Most of Delevingne's roles have used her as an object, whether for good (Paper Towns) or ill (Suicide Squad), so getting a more active role feels like a step up for the actress.
The films that Valerian and the City of a Thousand Planets recalls most are the Star Wars prequels. That statement may cause many people to recoil in terror, but the comparison is apt, and despite some misguided elements, Lucas' movies are nowhere near as bad as some claim.
What Besson's film shares with that Lucas trilogy is that they are both incredibly overstuffed with visual information. This a film in which Besson almost certainly never said, "That's too much," and thus the film experience is less about following the machinations of the plot (much like the Star Wars prequels, with their worries about trade federation disputes) and more about just bathing in the film's atmosphere.
Some of this is intensely beautiful, like the visions of the doomed beach-like planet and its alien inhabitants, some of it strange and all of it meant to be pure spectacle. The film even stops dead in its tracks just to have Rihanna perform a medley in some outfits even Cher would dismiss as too outrageous.
Valerian and the City of a Thousand Planets just piles on the excess in the way that Luc Besson movies usually do and, in cases like The Fifth Element, become beloved for doing. Audience members may ask themselves while watching the movie, "Why is the director doing this?" The answer for a Besson movie is always, "Why not?"
———————————————————-
Valerian and the City of a Thousand Planets
STX Entertainment
In theaters July 21
3 Stars
Films are rated on a scale of 5 stars (must-see), 4 stars (exceptional), 3 stars (solid), 2 stars (average) and 1 star (unworthy).
Video Slider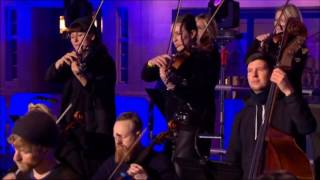 Win Tickets to See Pete Tong at Hollywood Bowl
Pete Tong is back in Los Angeles, and your chance to see him perform is at Hollywood Bowl on Thursday, Nov. 9. We are giving away complimentary tickets to the show. For a chance to enter to win, email us at
[email protected]
with "Pete Tong" in the subject line and tell us why you would like to go.