Review: Together PANGEA Resurrects the Spirit of Rock 'n' Roll at the El Rey
Together PANGEA made it clear that they are a band that's for the people, by the people. (Trace Slobotkin/LOL-LA)
For decades, teenagers and young adults were drawn to the angst-ridden, down-and-dirty sound of rock 'n' roll because it was one of the few things that spoke to the rebellious, anti-authoritarian emotions that one feels when jacked up on pubescent hormones. That all seemed to change with the emergence of the millennial generation. They, for the most part, turned their backs on the distorted fuzz of a Stratocaster and opted instead for the bass-heavy sounds of hip hop or the futuristic pulse of EDM.
But if last Friday night's show at the El Rey is any indication, the tide has finally turned. Local band Together PANGEA (along with supporting acts Tall Juan, the Side Eyes and Daddy Issues) has found a way to resurrect the fun, playful, kick-ass spirit of good ol' rock for the modern era. Playing tunes from the their newly released LP, Bulls and Roosters, as well as their 2014 debut, Badillac, PANGEA blared through a setlist of songs that ran the gamut from punk to grunge to metal, the common thread being a sense of fun and a sense of humor.
That attitude pervaded the entire show, which felt more like a party than a polished, theatrical concert. Friends and fans milled about onstage behind the band, all the while drinking and having casual conversations. Audience members danced, moshed and stage-dived with glee. And the band even stopped down for a good five minutes to make sure an injured member of the crowd was properly cared for. Together PANGEA made it clear that they are a band that's for the people, by the people.
And by people, we're not just referring to the dudes. Between the high intensity punk of the Side Eyes, led by female singer Astrid McDonald, to the dreamy grunge pop of all female three-piece Daddy Issues, the prevailing theme of the night was that today's young women want to rock out just as much as their testosterone-fueled brothers. In fact, there were more girls jumping on stage and diving into the crowd than boys.
By the end of the night, it was clear that we live in a new age where hard rockin' music can have some balls but still appeal to those who don't have any.
Video Slider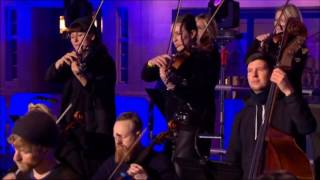 Win Tickets to See Pete Tong at Hollywood Bowl
Pete Tong is back in Los Angeles, and your chance to see him perform is at Hollywood Bowl on Thursday, Nov. 9. We are giving away complimentary tickets to the show. For a chance to enter to win, email us at
[email protected]
with "Pete Tong" in the subject line and tell us why you would like to go.