Review: The War on Drugs & Alvvays Take Over the Hollywood Bowl Stage
The War on Drugs (Courtesy photo)
KCRW's Morning Becomes Eclectic show is responsible for introducing many Angelinos to some of today's most exciting alternative bands. So it's no surprise that for the latest show in their World Festival (Sept. 16) at the Hollywood Bowl series, they chose two of the most unique bands out there, The War on Drugs and Alvvays (pronounced Always).
Alvvays hit the stage first and set the tone for the rest of the evening with their dreamy, wistful alternative pop melodies. By the end of their twelve song set, they seemed to have won over a number of new fans, many of whom couldn't help but dance to the final song, "Next of Kin."
Now that the sun had set, it was time for Philadelphia's The War on Drugs to dazzle the crowd. They started with "Brothers" and "Baby Missiles", two upbeat tunes from their 2011 release, Slave Ambient, and then continued on to play a two hour set that featured their best and most popular songs from all four of their LPs. "Red Eyes" and "Under Pressure", from their 2014 album, Lost In The Dream, were stand-outs, bringing most of the Hollywood Bowl to their feet. For an encore, the band played two songs, one of which was a Warren Zevon cover entitled "Accidentally Like A Matyr," a great choice that fit so well with the band's sound, it would be easy to mistake it for one of their originals.
Speaking of that sound (for those who haven't heard the band), it feels like a contemporary twist on some of the best classic rock troubadours from the past forty years. Singer Adam Granduciel sings with a drawn out style, reminiscent of Bob Dylan with a touch of Tom Petty and yes, even Warren Zevon. But instead of feeling like a rehash of music we've all heard before, this six piece band differentiates itself with contemporary, kick-ass guitar playing mixed in with some keyboards and sax.
Adding another dimension to that sound at Sunday night's show was a simple, yet creative set design that prominently featured a lighting fixture that looked like an eye made of a wrought iron fence. Much like the band, it wasn't overly pronounced nor was it underwhelming. It fit right in with the melancholy mood of most of the band's songs. Which also happened to be the perfect mood for a Sunday night at the Hollywood Bowl. I think most of the audience would agree with the inebriated guy sitting next to me, who summed up the evening by saying, "We won the war on drugs tonight, man!"
Video Slider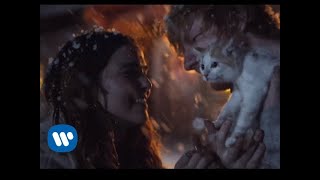 Win Tickets to See Ed Sheeran at the Rose Bowl
Ed Sheeran is back in Los Angeles, and your chance to see him perform is at the Rose Bowl in Pasadena on Saturday, Aug. 18. We are giving away complimentary tickets to the show. For a chance to enter to win, email us at
[email protected]
with "Ed Sheeran" in the subject line and tell us why you would like to go.