Review: The Oscar Nominated Shorts 2018 Are Moving and Masterful
Garden Party is nominated this 2018. (ShortsTV)
As awards season rears its glistening, golden head once again, we film journalists rally around the cause of our favorite feature film in the best picture race. However, just as integral to the moment (if not quite as heavily publicized) is the fine selection of short films that find themselves nominated for their respective Oscars in the dramatic, animation, and documentary categories. The privilege of seeing these wonderful shorts is one that, in the past, was mostly left solely to members of the Academy. However, in recent years, the viewing field has widely been widened to include public audiences, (some of whom) will have the opportunity to watch these cinematic jewels when they hit limited theaters today in Los Angeles, and other cities.
Kicking things off with the dramatic category, this year's selections included in eclectic and international assortment of works which largely tackled pressing societal or cultural issues with weighty aplomb. In German helmer Katja Benrath's Watu Wote/All Of Us, a bus full of Muslims in Kenya must band together to defend a petrified Christian lady from a band of Al-Shabaab terrorists intent on killing her. Meanwhile, Reed Van Dyk's Dekalb Elementary depicts a razor's-edge incident which sees a soft-spoken school employee being forced to talk down a crazed school shooter. The Eleven O'Clock, directed by Aussie Derin Seale, is the lone comedy of the bunch, and soars with its depiction of a madcap encounter between a buttoned down therapist and a wildly outre patient. Finally, the most moving of the bunch is My Nephew Emmett, the searing drama directed by Kevin Wilson, Jr., which depicts the last hours of Emmett Till, the 14-year old African-American boy who was tragically lynched after speaking to a white woman in a grocery store.
Moving forward, the documentary category offers up similarly fraught and affecting fare, starting with Thomas Lennon's Knife Skills, which tracks the initial group of trainee kitchen employees at Edwin's, an upscale restaurant in Cleveland committed to hiring recently incarcerated peoples in an effort to keep them off the streets. Next, hailing from HBO films and directed by Kate Davis, the wrenching Traffic Stop elucidates the tragedy of Breaion King, a profoundly decent Texas resident who was unfairly targeted in a violent arrest by an Austin police officer. Heaven Is a Traffic Jam on the 405, the story of Mindy Alper, an accomplished Los Angeles artist who has struggle with severe mental illness throughout her life, which depicts the events through a stylized aesthetic inspired by Ms. Alper's own art. Heroine is among the fiercest of the bunch: a sprawling depiction of the present day opioid epidemic by showing the municipal workers of Huntington, West Virginia as they battle the growing heroin crisis on the ground. Finally, the most humanizing of all the docs comes in the form of Edith+Eddie, a small-scale portrayal of two elderly Virginians who marry in their 90s, only to be forced apart by their bickering family members and the red tape of a cold-hearted system.
Lastly, the animation category dazzles with visually striking works of imagination. Lou, a Pixar-produced piece directed by Dave Mullins shows a lost-and-found box in a schoolyard coming to life in order to impart an important lesson to a brusque bully. Next, the BBC-produced Revolting Rhymes, directed by Jakob Schuh and Jan Lachauer, is a clever adaptation of the classic Roald Dahl poetry collection of the same name, which depicts a skewed version of "Little Red Riding Hood", in which the Wolf (Dominic West) retells the story in his own twisted manner. In Negative Space, directed by Max Porter and Ru Kuwahata, a grown man thinks back on how his distant father once taught him the correct way to pack a suitcase, leading to mature revelations in the present. However, the most eye-poppingly gorgeous of the pack is Garden Party, realized by "Illogic", a collective of French animators. The film presents a surrealist gathering of amphibious animals, who congregate in the parlor of a crumbling manor estate for a bizarre party of their own making. Acting as both a brilliant high allegory for societal decadence and a whimsical tale sure to appeal to children of all ages, Garden Party might just be my favorite of the shorts— in any category.
Overall, these selections truly run the gamut of deep emotion, each one leaving a more lasting impression than the next. No matter who takes home the golden statue, every filmmaker involved in creating these lasting works deserves the highest of congratulations from the artistic community.
—————————————————————–
Oscar Nominated Shorts 2018
Now in theaters
4.5 Stars
Films are rated on a scale of 5 stars (must-see), 4 stars (exceptional), 3 stars (solid), 2 stars (average) and 1 star (unworthy).
Video Slider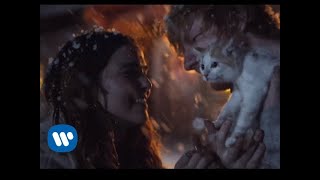 Win Tickets to See Ed Sheeran at the Rose Bowl
Ed Sheeran is back in Los Angeles, and your chance to see him perform is at the Rose Bowl in Pasadena on Saturday, Aug. 18. We are giving away complimentary tickets to the show. For a chance to enter to win, email us at
[email protected]
with "Ed Sheeran" in the subject line and tell us why you would like to go.