Review: The Forum, Los Angeles Witness a Stellar Ricky Martin
Ricky Martin performs Saturday, Sept. 19, 2015 at the Forum. (courtesy of Chino Lemus)
"Good evening, Los Angeles. How are you tonight," asked Ricky Martin with a smile after performing his fifth track during his One World Tour stop Saturday night at the Forum.
This came following his rendering of the musical guest-filled "Adrenalina," which included pop star Jennifer Lopez and Latin urban music stud Wisin in the radio and video version. Here we saw a showman extraordinaire in action and a treat we hardly ever witness: Ricky Martin exposing himself as a capoeira dancer.
Martin's 100-minute performance – which followed an impressive six-track set by Mexican-American pop sister duo Ha*Ash – featured 21 songs with an electric nine-piece band and sensual eight dancers. The One World Tour, his 10th overall in his career, was easily one of his most prolific tours musically, if not the most out of the bunch.
The 43-year-old's packed show consisted of tunes in both English and Spanish, lots of sex appeal, much swagger artistically, an unimaginable number of outfit changes, ridiculously entertaining visuals and by far some of the best onstage choreography ever.
This is expected from Martin, who throughout his eminent career has been a global hit-making machine nonstop. The Puerto Rican isn't afraid to try new things – never! His motto: "Don't care what people think. Don't care what people say."
That's why the pop megastar continues to deliver live performances in both of his native tongues. During "Tal Vez," the fans were in awe. During "Shake Your Bon-Bon," they rocked it out a bit. With "She Bangs," they get more of both.
Martin truly got the show going in another direction when he brought out a mid-1960s classic convertible Ford Mustang while singing "Livin' la Vida Loca" in a reggae, rock and dance-pop elegance that was musically immeasurable.
Immediately after a couple of electro dance-pop masteries, Martin went romantic with "Asignatura Pendiente," "Tu Recuerdo" and "Vuelve" – three pieces his fanbase absolutely loves.
The electro-merengue infused "Adiós," which contained lyrics in English, French and Spanish, delighted while it began a series of uptempo minutes with "María," "La Mordidita" and "La Bomba", among others, that we all excitingly shook to.
For his encore, an entirely dressed in white Martin shone with the tropical sounds in "Pégate" and the ever-popular "The Cup of Life" (1998). While these two kept the audience hungry for more, they solidified him as a stellar showman and the King of Latin Pop.
Video Slider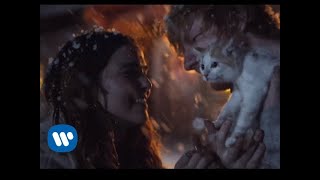 Win Tickets to See Ed Sheeran at the Rose Bowl
Ed Sheeran is back in Los Angeles, and your chance to see him perform is at the Rose Bowl in Pasadena on Saturday, Aug. 18. We are giving away complimentary tickets to the show. For a chance to enter to win, email us at
[email protected]
with "Ed Sheeran" in the subject line and tell us why you would like to go.