Review: The Female-Driven Play "Extremities" is an Insightful Art for its Audience and Our Times
The play "Extremities" was first produced at the Westside Theater in New York City in late 1982 where it ran for over 300 performances to great acclaim. Written by William Mastrosimone and directed by Robert Allan Ackerman, it tells the story of a young woman who has to deal with the ramifications of an attempted rape that happens in her own home. The main character of Majorie was originally played by the actress Susan Sarandon and later performed by the late Farrah Fawcett who also reprised the role in a 1986 TV film version of the play.
At the intimate theater of the New Collective LA Acting Studio located 6440 Santa Monica Blvd. Los Angeles, CA 90038, a new production of this milestone work is currently being presented by Dynamo Studio in association with Donna Morong. Dynamo Studio is a recently created female-centric performance company headed by three young, talented actresses that happen to play most of the main characters of this production. They are Whitney Anderson (Patricia), Laura Coover (Terry) and Laura Campbell (Marjorie) that along Curtis Bechdholt (Raul) round out the cast.
Given the recent scandals about sexual violence and abuse at the hands of so many important male figures (and some female) that spawned the #metoo movement, it is very appropriate and important that this work is being seen again by the general public, especially men.
The first act finds the main character of Marjorie hanging out at home alone while her two roommates have gone to work. Dressed in sexy satin lingerie, her only worries are painting her nails and dancing around to a recording of Marvin Gaye's classic song "Got to give it up", only to be interrupted by a bothersome wasp that has stung her foot. But is not just the wasp that has intruded her private space, a stranger named Raul has barged in, asking if an acquaintance of his lives there.
We soon learn that this is not just a random home invasion as Raul's aim is to rape and abuse Marjorie who has been the subject of his desire for a long time. This very powerful early scene has been staged by director Tina Alexis Allen and fight director Kenneth Merckx masterfully with impeccable choreography of the violence scenes with added subtle nuances by the two actors, which had me in the edge of my seat.
Speaking for myself, as a male who was raised primarily by women and taught from an early age to respect the fairer sex, the idea of a man taking advantage of his overwhelming physical strength to overpower and abuse a woman for any reason was very foreign to me, and to actually see it at almost at arm's length was eye opening.
Laura Campbell's performance was a tour de force both physically and emotionally as she tries to navigate the situation that could get her not just sexually abused but even murdered. Her body language, voice intonation, facial expressions and even subtleties such as her breathing as she was being smother with a pillow added to the complexity of emotions a woman would face in this type of live or die situation.
As the psychopathic Raul, Bechdholt has an endearing boyish charm with a believable east coast accent that made his interpretation the more sinister and scarier. The physical scenes between him and Campbell were outstanding in their precision and continuity as well as their raw intimacy.
Both Coover and Anderson bring a nice balance of characters and personalities as the two roommates who take different points of view of what transpired in the first scene. They represent society at large and how different parts of the community view both perpetrator and victim of these violent crimes. The simple but yet effective set design by Allison Honeycutt gives you the sense of the farmhouse setting while allowing the actors fluid access to the scenes.
As society finally comes to term with the rampant abuse of power which many times includes sexual abuse and violence, it helps that plays like "Extremities" focus and educate, especially men, on what so many women have to face on a daily basis.
Extremities has been extended!
The Broadwater Black Box, 6322 Santa Monica Blvd., Hollywood; Fri., Sep. 7 and 21, 8 p.m.; Sat., Sep. 8, 15 and 22, 8 p.m.; Sun., Sep. 16, 8 p.m.; extended through Sep. 22. (847) 275-3350 or https://www.dynamo-studio.com/box-office. Running time: one hour and 30 minutes with no intermission.
Video Slider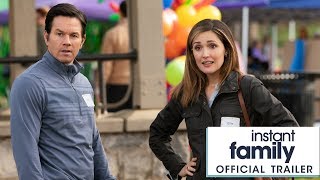 Win a Blu-ray + DVD + Digital Copy of Instant Family
Everyone everywhere can now enjoy Instant Family on Digital and on Blu-ray™ Combo Pack, and DVD on March 5 from Paramount Home Media Distribution. For a chance to enter to win at random, please email us at
[email protected]
with "Instant Family\" in the subject line and let us know why you\'d like to win a copy. This contest ends March 25, 2019.