Review: "The Absolute Brightness of Leonard Pelkey" Has Undeniable Power
James Lecesne in "The Absolute Brightness of Leonard Pelkey" (Matthew Murphy)
Actor and playwright James Lecesne is not the type of activist who does not believe that the gay rights movement is finished. There is a certain point of view that with the legalization of gay marriage, there is little use for a political movement for gays and lesbians, whose last battles are minor before full acceptance is achieved. Lecesne wrote the screenplay for the Academy Award winning short film "Trevor," which inspired the suicide prevention organization for gay and lesbian children, the Trevor Project, and his one-man show "The Absolute Brightness of Leonard Pelkey," continues this advocacy work. The play is the fictional story of Leonard Pelkey, a 14-year-old gay orphan whose disappearance affects the residents of a small New Jersey town, and it is a stark reminder that homophobia still can kill.
There are traces of "Twilight: Los Angeles," the renowned Anna Deavere Smith one-woman show in which Smith played multiple roles in an attempt to chronicle the Los Angeles riots. Lecesne shares some of Smith's didactic nature; this is a show meant to educate as much as entertain. The show does not have the benefit of historical significance that Smith could draw upon. While there have undoubtedly been many cases of children murdered because they were either gay or suspected to be gay, this show comes completely from the imagination of its author, perhaps because the most famous gay-bashing murder, Matthew Shepard, has been so thoroughly covered.
What "The Absolute Brightness of Leonard Pelkey" offers that Smith cannot, however, is humor. Neither the L.A. riots nor gay bashings are funny topics, but Lecesne is able to make most of the characters that he plays at least somewhat humorous. His main creation is Chuck DeSantis, the detective who tells the story of Leonard's disappearance, but Lecesne also plays Leonard's aunt Helen, her daughter Phoebe, Leonard's drama teacher and various other town residents. Lecesne's voices are completely broad, particularly Detective DeSantis and Helen, who both speak in exaggerated Noo Joisey accents that are funny even when they are never quite convincing. Lecense never quite sounds like a woman, but the characters are such stereotypes that verisimilitude never seems like the actual point of the exercise.
Lecense never changes his outfit (a shirt and pants that might have come from Banana Republic) during the performance, but the outrageous characters and their broad accents have the spirit of a drag show. The best of these is the chain-smoking patron of Helen's beauty shop, which is entirely reminiscent of Harvey Fierstein.
"The Absolute Brightness of Leonard Pelkey" may have its comedic moments, but it means to primarily convey its message about the dangers of homophobia. In doing so, it perhaps overplays the saintliness of the missing kid in a way that never seems realistic. The Leonard Pelkey that the characters describe may have been a special 14-year-old kid far different from everyone else from his small New Jersey town, but even special 14-year-olds are still that age: often annoying, immature and tiresome. "The Absolute Brightness of Leonard Pelkey" never allows its title character that amount of humanity, so mourning him often seems like mourning the idea of a person instead of an actual human.
Still, even if "The Absolute Brightness of Leonard Pelkey" often seems more like a fable than anything else, demonstrating the perils of homophobia, the show has an undeniable power. The best moment that Lecense has during the show is when Helen testifies during the sentencing of Pelkey's killer. At that moment even Helen's Jersey accent cannot diminish the power of Lecesne's words. The most important thing about the play is its message, and even the broadest accent cannot distract from what Lecesne has to say.
"The Absolute Brightness of Leonard Pelkey" runs at 8 p.m. Tuesday through Saturday; 2 p.m. Saturday and 1 p.m. and 6:30 p.m. Sundays through Jan. 31 at Kirk Douglas Theatre (9820 Washington Blvd., Culver City). For tickets and more information, visit absolutebrightnessplay.com.
Video Slider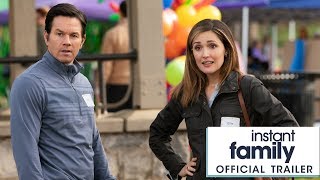 Win a Blu-ray + DVD + Digital Copy of Instant Family
Everyone everywhere can now enjoy Instant Family on Digital and on Blu-ray™ Combo Pack, and DVD on March 5 from Paramount Home Media Distribution. For a chance to enter to win at random, please email us at
[email protected]
with "Instant Family\" in the subject line and let us know why you\'d like to win a copy. This contest ends March 25, 2019.