Review: A Testosterone Filled Night with BalletBoyz
Walking towards The Ahmanson Theater at The Music Center last night one could notice an unusually larger than normal amount of men of varying ages heading to the performance, given that most of the audience for dance is generally female. Maybe it was the name "BalletBoyz", the all male format of the company, its repertoire and/or the fact that Gay & Lesbian couples can now marry in California and in over 30 states in the USA that one could witness lots of hand holding and expression of affection in the audience amongst same-sex couples.
The BalletBoyz dance company was started in 2000 by former Royal Ballet of the UK dancers Michael Nunn and William Trevitt and is credited for bringing to ballet a new, more diversified audience while providing innovative programming created by today's most important choreographers and composers. Made up currently of 10 male dancers whose physique are more like gym bodies than the leaner ballet dancer, the company has won numerous awards including the 2013 UK Critics' Circle award for Best Independent Dance Company.
The evening's program was made up of two pieces which included "The Serpent" by choreographer Liam Scarlett set to music by Max Richter and "Fallen" by choreographer Russell Maliphant with music by Israeli composer Armand Amar.
Each performance piece began with a short video projection of some of the dancers rehearsing and a brief interview of each choreographer explaining about his style and how they approached the work, giving the audience context and information about what we were about to enjoy.
"The Serpent" was presented with a simple background screen that changed colors from blue to a light yellow with the shirtless dancers sporting flesh colored leotards which emphasized the body and lines created by each dancer and as a group. Lighting designer Michael Hulls must be congratulated for his outstanding work in conveying mood and a visually arresting landscape on what can be one of the most undervalued jobs in dance performance and theater.
The score by German born, British composer Max Richter was rich in variety and complexity, starting with the sounds of water drops as the dancers laid on the floor extending their arms upward in a snake like fashion to the later used of a harpsichord (a baroque period instrument) setting a totally different sound context.
Liam Scarlett's choreography was full of beautiful lyrical lines and movements while the very physically fit and capable group of dancers was impressive to watch as they moved fluidly around the stage in what was at times a very complex and fast series of movements. At some points in the piece a few of the men took on the "female" roles but in a way that did not take away from their masculinity, nor did the piece go into a gay "camp" style such as Les Ballets Trockadero de Monte Carlo.
After intermission came "Fallen", a more testosterone driven piece by choreographer Russell Maliphant that seemed influenced by The Rites of Spring from iconic ballet dancer/choreographer Vaslav Nijinsky in its ritualistic and at times circular format along with influences from classical ballet and martial arts. This very physically demanding, complex choreography accented the level of training and talent that all the dancers possess as it required not just great strength and technique but perfect timing.
The score by Israeli born composer Armand Amar was a mostly percussion driven one with the dancers sporting prison-like attire with the raw background of the stage providing an institutional and/or war like context. The pounding beat of the score accentuated the movements of the dancers which were at times aggressive towards each and at others created beautiful levitating effects as the group carried some of the dancers overhead.
With a name like BalletBoyz you might have thought the evening's performance was to be filled mostly of traditional ballet done by male dancers. To everyone's surprise and delight the company brought a high energy, modern and testosterone filled production that showcased a very creative team of artists and producers while turning the stereotypical idea of ballet and male dancers upside down.
Video Slider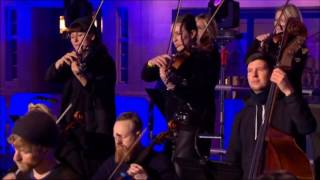 Win Tickets to See Pete Tong at Hollywood Bowl
Pete Tong is back in Los Angeles, and your chance to see him perform is at Hollywood Bowl on Thursday, Nov. 9. We are giving away complimentary tickets to the show. For a chance to enter to win, email us at
[email protected]
with "Pete Tong" in the subject line and tell us why you would like to go.