Review: Suspenseful Demon Unravels Truths About Society
Itay Tiran in a scene from director Marcin Wrona's Demon
Demon, the final film from director Marcin Wrona, hit the festival circuit as it approached release. The untimely passing of the film's director speaks to a talent lost too soon and to the cathartic nature of the film itself.
Based on Polish writer Piotr Rowicki's play, "Adherence," the film is a darkly comedic allegorical tale of possession. Completely alone, Peter (Itay Tiran) arrives in the small rural Polish town his fiancée Zaneta (Agnieszk Zulewska) is from for their wedding. The pair's upcoming nuptials are to take place on a bit of land that her family has gifted them that belonged to her grandfather. It's a very old small home and a barn that Peter finds himself bizarrely affected by when he stumbles across a pile of human bones near his father-in-law's tractor.
After seeing strange apparitions the night before and being sucked into the eerie grave, Peter wakes up in his car the next morning when Zaneta's brother and their mysterious childhood friend find him. As the wedding takes place, Peter starts experiencing things like nosebleeds and shakes, which Zaneta's hospitable family writes off as marriage jitters. They make jokes at him for being an English-born Pole who can't handle the countryside. Zaneta's friend jokes to her that if he was her husband he would wuss out on their wedding like Peter seems to be doing as he becomes undone by a supernatural entity called the Dybbuk. As the reception begins, Peter starts to see the ghost that's gripping him, and it takes possession sending him into uncontrollable shakes at his wedding that his in-laws write off as epileptic fits to their guests as they let the vodka flow.
After being repeatedly told that he did not see bones by smiling and jovial faces, Peter begins to think he's losing his mind. Behind closed doors, however, Peter begins to piece together the land's sordid history and his relation to it as relatives skirt around Zaneta's grandfather's past as a 'pure' and respected man. Historically the film is alluding to the time in Poland when natives would hand over Jewish people to be killed or kill them during the Holocaust. You can see that the feeling hasn't changed much when Peter accidentally gives himself away as likely being a Polish-Jewish refugee born when he's given a glass to break during the wedding and he steps on it instead of throwing it over his shoulder.
While Zaneta doesn't care because she loves her husband, her family seems alarmed. Her father pulls her brother aside while Peter is being treated by a doctor for the 'epilepsy' and asks him why he got his sister a 'sickly husband,' but in a very loaded way. Her brother says, he didn't know him that long or too well, and even his feelings toward Peter which initially were bro-ish turn sour.
Meanwhile another guest, a professor, aids Zaneta in figuring out that Peter is possessed. When the Dybbuk, as they figure, takes over, she reveals herself to be the ghost of a Jewish girl named Hana who had been killed on the property grounds. Realizing her father, brother and friend had been hiding the fact that Peter found bones the night before the wedding, Zaneta sees that their course of action has turned against her and her husband. Even the priest refuses to exorcise him because of his heritage, and she is left to take matters into her own hands despite her family's crumbling facade.
Wrona masterfully weaves so many layers in this horror film that starts off making you think the possession is what's scary when in reality it's still the evil that men do. It's funny and tension-filled. Tiran's powerful performance evokes the personal struggle of Wrona's battle with depression, as the possession takes hold when the groom should be having the happiest day of his life. It's relatable to see the darkness wash over him and grip him despite the pleas in his eyes to be able to be in the moment with his wife. To be able to sustain the initial layer of the possession as metaphor for depression is one thing but to have it work so well as a part of the bigger message is incredible. When Peter's life becomes as devalued as the spirit of the woman who has taken him, the film takes terrifying turns. The suspenseful ending says so much through visuals built on the film's small reveals that add up to unravel shocking truths about the denial society lives in.
———————————————————-
Demon
The Orchard
Now in theaters
5 Stars
Films are rated on a scale of 5 stars (must-see), 4 stars (exceptional), 3 stars (solid), 2 stars (average) and 1 star (unworthy).
Video Slider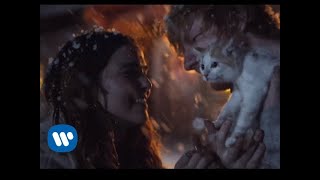 Win Tickets to See Ed Sheeran at the Rose Bowl
Ed Sheeran is back in Los Angeles, and your chance to see him perform is at the Rose Bowl in Pasadena on Saturday, Aug. 18. We are giving away complimentary tickets to the show. For a chance to enter to win, email us at
[email protected]
with "Ed Sheeran" in the subject line and tell us why you would like to go.