Review: Summer Fun with Hotel Transylvania 3: Summer Vacation
Have some fun with Hotel Transylvania 3: Summer Vacation. (Sony Pictures Animation)
There are certain movies that are essentially critic proof. Horror movies certainly qualify, since audiences eat them up no matter what the critics say. Kids movies are the same way, since the judgment of an adult journalist is far different from that of a child. And Adam Sandler over the past twenty-five years has proven himself utterly immune to critical judgment. The Big Daddy and Happy Gilmore comedian has made a massive fortune through movies that have been scorned by reviewers. So anyone reading a review of Hotel Transylvania 3: Summer Vacation likely already knows whether this film is for them, and if so will utterly disregard any opinions regarding the merits of this movie.
So is there any point to reviewing Hotel Transylvania 3: Summer Vacation, given everything about it is impervious to judgment? Yes, because despite the fact that everything about the film suggests that it would be anathema to critics, what the film ends up being is a relatively standard children's movie that will provide parents one hundred minutes of air conditioning, and during a summer heat wave, that is not damning the movie with faint praise. In a career where he has made some grossly offensive films in so many different ways, Sandler has just made one that is harmless fun, with solid voice performances by people as varied as Selena Gomez, Kathryn Hahn and the legendary Mel Brooks.
At this point in time, the very fact that Mel Brooks continues to work, even doing the voice of Dracula's father in a kid's comedy, deserves celebration. At age ninety-two, the comedian, actor, director, writer and vulgarian deserves the same status as a Betty White, a particularly American icon whose comic instincts have barely been dulled by time. Even when reciting the Borscht Belt style jokes that Hotel Transylvania 3: Summer Vacation gives Brooks, he does it with the same gusto that he does in interviews that serve as a constant reminder that the best comedians, as he did in The Producers and Blazing Saddles, can get away with anything, even warmed-over Catskills shtick in a kid's vampire movie.
There is a plot to Hotel Transylvania 3: Summer Vacation, which finds Sandler's Dracula and his family deciding to get out of his monster hotel to give the Count a much-needed break from work. The family, which includes Dracula's daughter Mavis (Gomez) and son-in-law Johnny (Andy Samberg), go on a monster-themed cruise headed by Captain Ericka (Hahn), who is secretly the great-granddaughter of Dracula's nemesis Van Helsing (Jim Gaffigan). Dracula falls for Ericka, even though he is unaware that the cruise is part of Van Helsing's dastardly plot to defeat Dracula once and for all.
Most of the jokes are pretty much what one would expect from a kid's monster movie with the pedigree of Hotel Transylvania 3. There's a lot of craziness meant to keep kids busy and stimulated throughout the movie, and anyone who saw the Mr. Rogers documentary Won't You Be My Neighbor can pinpoint this as precisely the type of children's humor he loathed. There's one sequence that is genuinely inventive, a strangely romantic riff on Raiders of the Lost Ark, and one that requires the film to unearth perhaps the most loathsome one-hit wonder of the past several decades. One can see the comic value of using this particular song (and the dance that accompanies it), but that still requires people to listen to the "Macarena," and that song should have been left back in 1996, never to be listened to or even spoken of again.

Hotel Transylvania 3: Summer Vacation may be an entirely critic-proof movie, but even though that seems like a damning judgment of the film, it serves its children's audience well enough, and with the exception of resurrecting the "Macarena," won't annoy parents too much. And if this keeps Mel Brooks working in his tenth decade on earth, even an Adam Sandler vampire cartoon has its merits.
—————————————————————–
Hotel Transylvania 3: Summer Vacation
Sony Pictures Animation
Now in theaters
3 Stars
Films are rated on a scale of 5 stars (must-see), 4 stars (exceptional), 3 stars (solid), 2 stars (average) and 1 star (unworthy).
Video Slider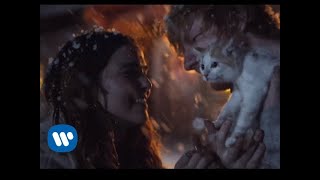 Win Tickets to See Ed Sheeran at the Rose Bowl
Ed Sheeran is back in Los Angeles, and your chance to see him perform is at the Rose Bowl in Pasadena on Saturday, Aug. 18. We are giving away complimentary tickets to the show. For a chance to enter to win, email us at
[email protected]
with "Ed Sheeran" in the subject line and tell us why you would like to go.