Review: Son of Saul, a Work of Art That Tells the Truth
Géza Röhrig as Saul in Son of Saul (Sony Pictures Classics)
Despite the abject horrors portrayed in most films set during the Holocaust, it is not uncommon for these stories to maintain a glimmer of hope. It is only natural that this happens so frequently, since the typical film set during the Nazi occupation of much of Europe is the true life story of a survivor. No matter how many characters in the film are murdered by the Nazis, the audience can take some solace in the fact that at least one of them survived to tell the tale. Schindler's List and The Pianist, among others, took this approach.
Son of Saul, despite taking its cue from the historical record, is not one of these stories. This is not a tale meant to uplift or inspire, but its look at the Final Solution may be the most truthful and realistic.
Stanley Kubrick famously dismissed Schindler's List as a false representation of the Jewish experience under Hitler, claiming "The Holocaust is the story of six million who died. Schindler's List is the story of six hundred who didn't." Hungarian director László Nemes may have taken this criticism to heart in the tale that takes as its inspiration the single armed uprising against the guards at Auschwitz that occurred in 1944. The fact that this uprising is a historical footnote should indicate how successful this endeavor was.
Son of Saul, however, only uses the Auschwitz uprising as a peripheral event in the film, which is narrowly focused on its protagonist, Saul (Géza Röhrig), a Sonderkommando at an extermination camp who wishes to give one child killed in the gas chambers a proper Jewish burial. The Sonderkommandos were prisoners enlisted by the Nazis to provide assistance such as cleaning the gas chambers and disposing of the corpses; they would be spared execution for a short time before others might be rotated into the role, thus providing a somewhat envious position with a massive psychological toll. They were spared some of the arbitrariness of the camp and received better treatment, yet must aid their captors and be doomed to the same fate.
The entire mood of Son of Saul is one of hopelessness. Saul himself is doomed, and he engages in a quest that is entirely quixotic. The film film leaves some ambiguity as to whether the boy that Saul wishes to bury is in fact his son; he may be risking his life to find a rabbi to perform the Kaddish for a child who is not his at all. That Saul's quest makes little sense is perhaps the most logical explanation; he is trapped in a situation in which logic no longer applies, so the only thing that Saul can do is grasp for any purpose to his short existence.
Nemes films Son of Saul in a manner that allows no perspective other than that of Saul himself. Only a few shots are taken from views that Saul himself does not see. Although the movie was not filmed in a single take, the tight perspective on Saul gives that impression. The audience sees what Saul does and knows no more than him. It is the perspective of a first-person shooter video game, elevated to high art.
Son of Saul is, appropriately, more a work of art than a work of entertainment, as its Grand Prize at the Cannes film festival attests. It will offer none of the catharsis of similar films about the Holocaust, but it may offer something more important: This film tells the truth.
———————————————————-
Son of Saul
Sony Pictures Classics
Now in theaters
3 Stars
Films are rated on a scale of 5 stars (must-see), 4 stars (exceptional), 3 stars (solid), 2 stars (average) and 1 star (unworthy).
Video Slider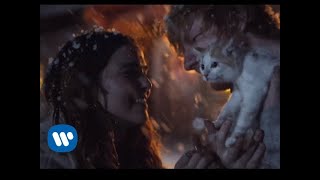 Win Tickets to See Ed Sheeran at the Rose Bowl
Ed Sheeran is back in Los Angeles, and your chance to see him perform is at the Rose Bowl in Pasadena on Saturday, Aug. 18. We are giving away complimentary tickets to the show. For a chance to enter to win, email us at
[email protected]
with "Ed Sheeran" in the subject line and tell us why you would like to go.