Review: The Solid and Consistently Effective Horror Film, Annabelle: Creation
Talitha Bateman as Janice in Annabelle: Creation
Annabelle: Creation rests entirely on the fact that dolls are creepy, and that's as good a maxim as any for a horror movie to proceed. It is the fact that dolls have human features but exist in the Uncanny Valley where they seem not quite right, especially when depicting human children that makes even the most benign doll seem slightly disturbing, as the Annabelle doll is and always will be.
Annabelle: Creation is the prequel to the 2014 horror hit Annabelle, which itself was a spin-off from the 2013 The Conjuring, which spawned a sequel. The film is thus essentially a prequel to a prequel, making it an interesting situation where the story seems to be going back in time instead of forward.
The film is set in a small town in the early 1950s, thus solving some of the problems that are endemic to modern horror films. There is no question why the characters don't just use their cell phones to call the cops, since the setting is one where the presence of a television even seems like a slightly too-modern amenity for the locale.
The film stars Anthony LaPaglia and Miranda Otto as the parents of a small child who is killed in a car accident. Twelve years later, the childless couple invite a small group of orphans and their nun caretaker to stay in their farmhouse. The children are menaced by the presence of what seem to be malevolent spirits contained in the Annabelle doll that figured so prominently in The Conjuring.
What results is a nicely effective horror film that features few of the problems that are so common to the genre while offering most of the genre's pleasures. Annabelle: Creation is heavy on moments that frighten but relatively light on the gore that so often pervades scary movies. Like The Conjuring and its sequels, it is pitched at a more mainstream audience than most horror films while maintaining more of an edge than, for example, the more frightening works of M. Night Shyamalan.
This is a film that makes tremendously effective use of its period production design, which makes the house where the film takes place simultaneously threatening and inviting. At times the design of the house almost seems to dictate the particular machinations of the plot, to satisfying effect. Any house that contains a dumbwaiter will inevitably have a character travel between floors in it, as it should.
The merits of a film like Annabelle: Creation probably should not be oversold, although it is generally quite adept at what it achieves. LaPaglia, an underrated and versatile performer who has never quite received the acclaim he deserves, plays the mysterious homeowner with an appealing gruffness, and Otto similarly strikes the balance between being unknowable yet sympathetic. The two children who are essentially the film's protagonists, Talitha Bateman and Lulu Wilson, are also quite strong, appealing but never too precocious. It is almost a cliché to exploit small children in horror movies, but both Wilson and Bateman give their characters more than just a surface complexity.
Annabelle: Creation may in some ways test the patience of horror aficionados with its leisurely pace during its first act during which the frights are relatively few, but the film eventually gains steam toward a finale that moves at nearly breakneck pace. The film is a solid, consistently effective horror movie that has an appreciation for some aspects of filmmaking that many horror films often do not.
———————————————————-
Annabelle: Creation
Warner Bros. Pictures
In theaters Aug. 11
4 Stars
Films are rated on a scale of 5 stars (must-see), 4 stars (exceptional), 3 stars (solid), 2 stars (average) and 1 star (unworthy).
Video Slider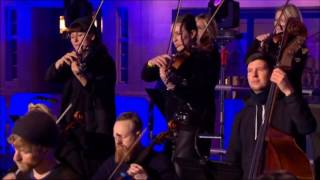 Win Tickets to See Pete Tong at Hollywood Bowl
Pete Tong is back in Los Angeles, and your chance to see him perform is at Hollywood Bowl on Thursday, Nov. 9. We are giving away complimentary tickets to the show. For a chance to enter to win, email us at
[email protected]
with "Pete Tong" in the subject line and tell us why you would like to go.