Review: The Shockingly Good Bridget Jones's Baby
Colin Firth, Renée Zellweger and Patrick Dempsey in Bridget Jones's Baby (Giles Keyte/Universal Pictures)
Bridget Jones's Baby is a sequel that one suspects few requested – apart from perhaps Renée Zellweger and director Sharon Maguire – but the utter lack of necessity for a third look at the English single sadsack makes it even more remarkable just how funny and charming the film really is. Seeing Bridget Jones on screen 12 after Zellweger last played the character in the unsuccessful sequel is like seeing an old friend with whom you've lost contact; she may have receded from people's memory, but meeting her again evokes all of the good memories of years ago.
When Zellweger first played Bridget Jones, she was in her early 30s, and thus her fears of impending spinsterhood had little bite. She may have always been adorably messy, but since her story began in the era of "Sex and the City," it hardly seemed pressing that she marry in the manner of the Jane Austen stories that inspired the Helen Fielding book. Now that Jones (and Zellweger) are now past 40 and she remains single, Jones' predicament feels more pressing and more poignant. This plays into Zellweger's strength as an actress; it was her vulnerability that helped make her a star in Jerry Maguire, and despite a decade or so of either disappointing or non-existent roles, Zellweger can still evoke those same emotions.
Still, as poignant as Zellweger can be in the role, what is more important about the film is that it is genuinely, often wickedly funny, and the writing credits provide a simple explanation. Emma Thompson, who has a supporting role as Jones' doctor, co-wrote the screenplay alongside Fielding and frequent Sacha Baron-Cohen co-writer Dan Mazer. The sentimentality of Love Actually screenwriter Richard Curtis, who co-wrote the first Bridget Jones movie, is less evident in Bridget Jones's Baby, even though the story would naturally suggest it.
Colin Firth returns as Mark Darcy, the possible father of Bridget's impending baby and her love interest throughout the series. By now, Firth is the undisputed expert in aristocratic English stuffiness, and even if he adds nothing new to his well-developed persona, it is always a pleasure to see. Hugh Grant does not appear as Firth's romantic rival for the first time, but Patrick Dempsey, no stranger to romantic triangles, makes an adequate replacement. His character, a billionaire who runs an eHarmony-style romance site, feels incredibly improbable, but Dempsey gives him enough shading to ensure he feels like a character and not a plot-determined obstacle.
In fact, it is the relationship that develops among the three principles that gives Bridget Jones's Baby a remarkable maturity. Of course, the two possible fathers bicker and compete with one another, but the film isn't content to settle for the expected hijinks. When the characters must act like adults, they do. If it seems shocking that the film receives credit for that feat, think how rarely comedies allow that to happen. Firth's and Dempsey's characters are nothing like the man-children that populate the Judd Apatow comedy universe.
Bridget Jones's Baby does have its faults. The film is somewhat overstuffed and bloated, even when dealing with familiar characters from previous films. While it is always a pleasure to see Jim Broadbent and Gemma Jones as Bridget's parents, their subplot seems too clearly engineered to make explicit some points that the film has already underscored. But this is a small complaint considering just how shockingly good the film really is. Bridget Jones's Baby is a sequel that few might have demanded, but everyone will nonetheless enjoy.
———————————————————-
Bridget Jones's Baby
Universal Pictures
Now in theaters
4 Stars
Films are rated on a scale of 5 stars (must-see), 4 stars (exceptional), 3 stars (solid), 2 stars (average) and 1 star (unworthy).
Video Slider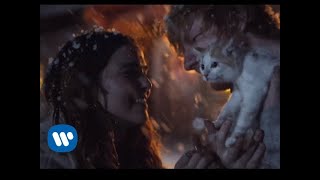 Win Tickets to See Ed Sheeran at the Rose Bowl
Ed Sheeran is back in Los Angeles, and your chance to see him perform is at the Rose Bowl in Pasadena on Saturday, Aug. 18. We are giving away complimentary tickets to the show. For a chance to enter to win, email us at
[email protected]
with "Ed Sheeran" in the subject line and tell us why you would like to go.