Review: Sharp, Funny and Audacious, "Walking to Buchenwald" Is a Long Hard Look in the Mirror
Mandy Schneider, Amielynn Abellera, Laura James and Ben Martin in "Walking to Buchenwald"
The entire American political spectrum is full of hyperbole. In the United States, both the left and right describe one another in apocalyptic terms and often leave no room for constructive dialogue. But what do people abroad think of everything going on in the U.S?
Open Fist Theatre Company's "Walking to Buchenwald" by Tom Jacobson answers that with a sharp and thoughtful play that left the audience nodding in agreement as often as it made them laugh. On several occasions there were audible signs of agreement in the audience, particularly when the U.S.'s tarnished image broad was mentioned.
Schiller (Mandy Schneider) and Arjay (Amielynn Abellera) star as two women in love who take Schiller's parents on their first trip to Europe. Mildred (Laura James) and Roger (Ben Martin) are two retirees with little exposure to the world outside of their native Oklahoma. When the four make the trek to Germany, the homeland of Roger's ancestors, they realize (mainly through a series of rude locals in England, France and Germany—all played hilariously by Will Bradley) that folks abroad simply don't hold Americans in the same regard they once did.
The difference between the seemingly hyperbolic political rhetoric in this play is that, sadly, the dialogue is pretty poignant. When Mildred hints that the world is at the brink of destruction, you look at current tensions in the Korean peninsula, and it's difficult to argue against her. When Schiller points out that our current president has provided a plethora of embarrassing moments across the globe, it's hard to counter her point. In other words, this is a play that isn't afraid to say what's on everyone's mind and doesn't pussyfoot around the point it seeks to make.
"Walking to Buchenwald" is a smart, sharp and audacious look in the mirror. The familial elements add a touch of charm that makes the hard truth easier to swallow. Catch it while you can.
"Walking to Buchenwald" runs through Oct. 21, with performances Thursdays, Fridays and Saturdays at 8 p.m. and Sundays at 7 p.m. Tickets are $30 and can be purchased at openfist.org or by calling (323) 882-6912. Atwater Village Theatre is located at 3269 Casitas Ave. Los Angeles 90039.
Video Slider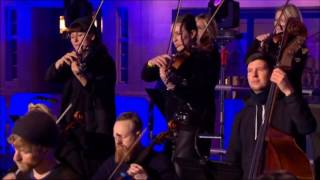 Win Tickets to See Pete Tong at Hollywood Bowl
Pete Tong is back in Los Angeles, and your chance to see him perform is at Hollywood Bowl on Thursday, Nov. 9. We are giving away complimentary tickets to the show. For a chance to enter to win, email us at
[email protected]
with "Pete Tong" in the subject line and tell us why you would like to go.