Review: Sérgio Mendes and the Hollywood Bowl Orchestra Bring Brazil to Los Angeles
Sérgio Mendes celebrated 50 years of Brasil '66 with an Olympic Carnival at Hollywood Bowl.
One of the most important exports of the country of Brazil is its music and dance traditions. These include the sounds of bossa nova, tropicalia, the samba dance and music genre that along with others are showcased in their famous carnivals which attract millions of tourists to the country each year.
This year, along with the famous carnivals, Brazil is also hosting the 2016 Summer Olympics which conclude in Rio de Janeiro on August 21. I'm sure many Angelenos would have loved to be one of the few lucky people from around the world traveling to that historic event, but for one reason or another are unable. No worries, the sounds, dance and culture of Brazil were on display in all their complexity and beauty on Friday, Aug. 12 at the famous Hollywood Bowl, courtesy of one of the most important and established artists from Rio de Janeiro, Brazil maestro Sérgio Mendes, who this year celebrates the 50th anniversary of his seminal music project, Brasil '66.
Born in a municipality near Rio de Janeiro in 1941, Mendes is known to be one of the most important exponents of the bossa nova music genre that fuses the sounds of the samba with jazz and was a huge worldwide hit during the 1960s. Even though most of his success was with his iconic group Brasil '66, Mendes has had a prodigious output of music (almost one album per year) with one Grammy award for Best World Music Album (1993) and two Latin Grammys, one for Lifetime Achievement Award (2005) along with Best Brazilian Contemporary Pop Album (2010). He was also nominated for Best Original Song at the 2012 Oscar ceremonies for "Real in Rio" from the animated film Rio.
The "An Olympic Carnival" performance began with the Hollywood Bowl Orchestra under the direction of Maestro Thomas Wilkins doing "Olympic Fanfare" by French/American composer Leo Arnaud, which most people recognize because it is used by most television networks as a theme song when they cover the Olympic games. This was followed by the infectious "Aquarela do Brasil" or "Brazil" for short by Brazilian composer Ary Barroso, which segued into "A Chegada dos Candangos" by another Brazilian great, Tom Jobim.
The work of Brazil's most famous classical music composer, Heitor Villa-Lobos was present in "Bachianas Brasilerias No. 5" Ária sung beautifully by African-American soprano Angel Blue, who has had a stellar career in opera. This was followed by a nostalgic, fast-paced and delicious potpourri of songs made famous by the legendary singer, dancer, actress and Latin-American film pioneer Carmen Miranda.
To finish the first half with a bang, the Hollywood Orchestra and Maestro Wilkins were joined on stage by the fine local dance company Viver Brasil doing an assortment of Afro-Brazilian dance numbers featuring the voices of Katia Moraes, Kana Shimanuki and an array of talented dancers and percussionists.
After intermission came one of the best part of the evening at the hands, or should I say the voice, of the incomparable jazz vocalist Dianne Reeves. Her clear, powerful voice and timing shined on songs such as "Waters of March" and the lovely "Like a Lover," during which she was joined by master guitarist Romero Lubambo.
One of the highlights of the evening, on a human level and of music history trivia, was when legendary trumpeter, producer and now artist/sculptor Herb Alpert came onstage to accompany Mendes. It seems that Mendes introduced his then lead singer Lani Hall to Alpert in the mid 1960s, whom he then married in 1974. Hall sang lead with the group on several songs, including "The Look of Love" when she was joined by the band's permanent vocalist Kathy Hampton, who along with Gracinha Leporace provided most of the smooth, jazzy vocals that just called out for some nice, cold martinis.
The remainder of the set was made up of hits such as "Goin' Out of My Head," "Mas Que Nada" and a cover of the Beatles' classic song "The Fool on the Hill". Mendes was backed by a band of talented musicians which included Kleber Jorge Pimenta (guitar/vocals), Leo Costa (drums), Andre Santos (percussion) and the incredibly talented Scott Mayo (keyboards/saxophone/flutes/vocals), who not only plays a mean sax, but also prepared many of the arrangements.
To end the evening like a real Carnival should, Mendes' band and the Hollywood Orchestra were joined by the Raiz Brazil Dance Company, who paraded some gorgeous samba dancers in elaborate costumes to the sounds of a samba beat. As a finale, the ever popular Fireworks Spectacular was accompanied by the reprise of "Olympic Fanfare," which made the lack of a trip to Rio for the 2016 Olympics seem not so bad.
Video Slider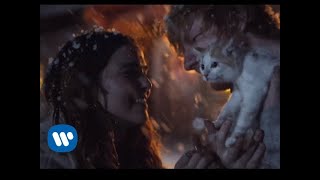 Win Tickets to See Ed Sheeran at the Rose Bowl
Ed Sheeran is back in Los Angeles, and your chance to see him perform is at the Rose Bowl in Pasadena on Saturday, Aug. 18. We are giving away complimentary tickets to the show. For a chance to enter to win, email us at
[email protected]
with "Ed Sheeran" in the subject line and tell us why you would like to go.