Review: The Ruthlessly Effective 47 Meters Down
Lisa (Mandy Moore) lets loose with her sister Kate (Claire Holt) while on vacation in Mexico in 47 Meters Down.
47 Meters Down is about as bare-boned as a movie can be, and that works to its benefit. The story is exceedingly simple: Two sisters on a vacation in Mexico go on an impromptu scuba trip to see sharks, but when their cage breaks from the boat and falls to the ocean floor while the pair is looking at sharks, the two must find a way to survive before they can be rescued. That's pretty much it, aside from a short prologue in which the film explains that one of the sisters, played by television's favorite mom, Mandy Moore, has broken up with her boyfriend because she doesn't take chances. There's the entirety of the character. And her sister, played by Claire Holt of "The Originals" and "The Vampire Diaries," only exists as a reflection of Moore's character. She's the more adventurous one.
And even that single element to Moore's character is unnecessary, because that is not what 47 Meters Down should be about. It should be about whether Kate and Lisa – and it really doesn't matter which one is Moore and which one is Holt – survive and how they do it. Swap Kate and Lisa with a pair of brothers, and it would be the same film, whether the brothers were a Chris and Brad or a Carlos and Javier. This is a reality-based horror movie where the dangers are sharks and drowning. Anything that does not answer whether or how the two characters survive is extraneous.
It may seem odd to praise 47 Meters Down for what it does not do, but it is those distractions that so often trip up a movie like this. Audiences who want an intimate exploration into a character's development can watch something where that is actually relevant to the story, while those who want to jump out of their seats when a character is surprised by a shark will watch something like this. Character development in 47 Meters would be as out of place in this movie as a killer shark would be in Moonlight. Unlike many horror movie antagonists, the shark is just an animal that wants to kill the humans and not a metaphor for anything except perhaps the movie itself. Like 47 Meters Down, a shark is relentless, single-minded and without any complexity.
And much like a shark is as a predator, 47 Meters Down is ruthlessly effective. It provides enough different types of thrills other than the constant threat that the characters might be eaten by sharks, allows its protagonists to find clever but not implausible solutions to their predicaments and even includes a bit of a surprise for viewers who miss a critical, if easy-to-miss, line of dialogue that functions as a Chekhov's gun in the third act.
There isn't much to analyze about the movie other than its effectiveness as a thriller, particularly since Moore and Holt spend 75 percent of the movie underwater. They swim convincingly well, in other words. This is a lean, single-minded movie that intends solely to keep the audience in suspense as to whether its characters survive scare them with the sight of sharks. To ask it to do anything else is to ask for a different movie.
———————————————————-
47 Meters Down
Dimension Films
In theaters June 16
4 Stars
Films are rated on a scale of 5 stars (must-see), 4 stars (exceptional), 3 stars (solid), 2 stars (average) and 1 star (unworthy).
Video Slider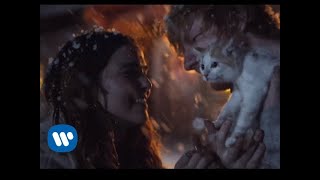 Win Tickets to See Ed Sheeran at the Rose Bowl
Ed Sheeran is back in Los Angeles, and your chance to see him perform is at the Rose Bowl in Pasadena on Saturday, Aug. 18. We are giving away complimentary tickets to the show. For a chance to enter to win, email us at
[email protected]
with "Ed Sheeran" in the subject line and tell us why you would like to go.