Review: Rodrigo y Gabriela Thrash Hollywood Bowl with Members of Metallica and Megadeth
Flamenco metal duo Rodrigo y Gabriela perform at the Hollywood Bowl on Aug. 14. (Evan Solano/LOL-LA)
Stop me if you've heard this one before: Two Mexicans walk into one of the world's most well-known venues and mesmerize a sold-out crowd with an eclectic blend of heavy-metal influenced flamenco guitars … and Charo was there, too.
It certainly was no joke, as the Mexican Latin-guitar duo Rodrigo y Gabriela took the stage for a powerhouse performance Sunday night at the Hollywood Bowl as part of its Sunday Sunset Concerts series. Accompanied by the Hollywood Bowl Orchestra, the "flamenco metal" innovators made up of Rodrigo Sánchez and Gabriela Quintero demonstrated an unbridled level of power and finesse that their metal influences had made famous in decades past along with the rich vibrant skill of their native musical prowess.
The evening began with a 20-minute set featuring just the Hollywood Bowl Orchestra conducted by Thomas Wilkins. The maestro and orchestra led the audience through a series of symphonic numbers from European composers that were inspired by Latin culture from Brazil to Cuba. "Danza Fantástica" by Enrique Soro and "A Chegada dos Candangos" by Antonio Carlos Jobim helped set the mood with a vibrant array of instrumentation and lighting. The "Love Theme" from El Cid by Hungarian composer Miklós Rózsa connected the most powerfully with a moving lead violin solo that heavily dominated the arrangement.
Wilkins even took a moment between entertaining the crowd to acknowledge Spanish-American actress, comedian and fellow flamenco guitarist Charo who was seated in the first few rows with an enthusiastic "cuchi-cuchi."
After a brief intermission to stretch, use the restroom and listen to "The Pot" by the L.A. based prog metal band Tool being played over the PA, Rodrigo y Gabriela emerged to a rousing round of applause and immediately ripped into "Santo Domingo" and "Savitri" from their 2009 album 11:11. While the style of music that Sanchez and Quintero play is not new by any means, what sets them apart from other flamenco artists is the fact that they did not start out playing classical music. As two young metalheads growing up in Mexico, their musical idols were artists like Metallica and Slayer, rather than the Gipsy Kings and Paco de Lucía.
The two play with a style that is all-American heavy metal but rooted in their Latin heritage. Quintero's driving slap palm percussions over Sanchez's intricate and dizzying lead arrangements have the same attack that made bands like Megadeth and Slayer such a genre defining force in heavy music, just with acoustic guitars in place of thrashing distortion and double bass kicks.
As if two Mexican metalheads playing flamenco to a crowd of predominantly rich, well-off patrons of the Hollywood Bowl was not enough of a culture clash, Sanchez also took a moment to jokingly point out why the band was touring despite having not released a studio album since 2014.
"We have no reason to be here … apart from taking your money," he quipped before adding, "We're Mexicans," which drew as much laughter as it did applause from everyone in the audience.
After a few songs, Sanchez then took to the mic to introduce the first of their surprise guests of the evening. Former Megadeth guitarist Marty Friedman, whose intricate and adventurous fretwork shone bright on albums like Rust in Peace and Countdown to Extinction, joined Sanchez and Quintero for a spellbinding rendition of "Oblivion" by tango legend Astor Piazzolla.
Although well known in the metal community for both his work with Megadeth and his successful solo career (Rodrigo y Gabriela appeared on his recent album, Inferno.), Friedman's presence quickly had the middle-aged guests whipping out their smartphones to google who the long-haired, flannel and leather clad guitar icon was.
Both Sanchez and Friedman switched off on the lead parts of the song in an acoustic/electric guitar showdown as Quintero kept the song driving with her rhythmic slap-strumming style. Friedman's dexterity and blazingly poignant soloing that garnered him so much praise in the metal community translated masterfully in the eclectic world of Latin flamenco that Sanchez and Quintero had created on stage.
After the jam session, the duo thanked both Friedman and the Hollywood Bowl Orchestra as they all left the stage, leaving just the two of them to close out the remainder of the show. They continued with the opening track from 11:11, "Hanuman," which had the crowd rise to its feet and clap along to the hypnotically moving rhythms and intricate melodic interplay the song features.
Before rounding out their set, Quintero introduced their final surprise guest of the evening, Metallica bassist Rob Trujillo, who joined the duo onstage for a medley of Metallica songs including "Battery," "For Whom the Bell Tolls" and the Cliff Burton-penned instrumental track "Orion" that the two covered on their self-titled debut album.
The duo finished their performance at the Hollywood Bowl with "Somos de Arena," a new song that Quintero dedicated to the 43 students who were kidnapped in the Mexican state of Guerrero in 2014, and finished with "Tamacun," the opening track from their self-titled album and for many, the first song that introduced them to Rodrigo y Gabriela.
As they took their final bows and the lights came on to AC/DC's "For Those About to Rock (We Salute You)" playing over the PA, the Hollywood Bowl clearly did more than just showcase the best of what Latin music has to offer. It also introduced the world of heavy music and metal to a new and unsuspecting audience in a way that was refreshing, unique and every bit as inspiring as the musicians who brought this new form of Latin jazz to life.
Overhearing the older folks leaving the venue saying, "That Marty Friedman character was out of sight," was a sign that Sanchez and Quintero's vision of heavy music does not have to be confined to electric guitar and distortion and can be embraced by not only metalheads and outcasts but everyone the world over. That's something truly worth saluting.
Video Slider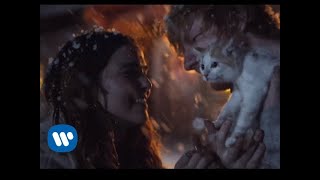 Win Tickets to See Ed Sheeran at the Rose Bowl
Ed Sheeran is back in Los Angeles, and your chance to see him perform is at the Rose Bowl in Pasadena on Saturday, Aug. 18. We are giving away complimentary tickets to the show. For a chance to enter to win, email us at
[email protected]
with "Ed Sheeran" in the subject line and tell us why you would like to go.