Review: Rise Against – The Ghost Note Symphonies Tour
Tim Mcilrath of Rise Against
"http://lol-la.com/wp-content/uploads/2019/07/Living-Out-Loud-LA-for-Air-Supply-728x90.jpg">
"http://lol-la.com/wp-content/uploads/2019/07/JoseLuisRodriguez_728x90.jpg">
"http://lol-la.com/wp-content/uploads/2019/05/MTH-190039-Feel-The-Fame-Remarketing-Banner-728X90.jpg">
http://lol-la.com/wp-content/uploads/2019/07/Yachtley_Crew-728x90.jpg">
"http://lol-la.com/wp-content/uploads/2019/07/HB19_DIGITAL_HERBIEHANCOCK_PROMO_728x90.jpg">
"http://lol-la.com/wp-content/uploads/2019/04/7.png" alt="disney on ice banner">
In 1999, Chicago's Rise Against hit the modern rock scene and started building a loyal following with their socially conscious punk and hardcore songs. Over the course of twenty years and eight LP's, they've occasionally experimented with their sound by crafting softer, more classical songs, a far cry from their noisy punk roots. That experimentation reached a high point with their release last year of The Ghost Note Symphonies, Vol. 1, a ten-song re-recording of their most popular hits reimagined acoustically with strings. To celebrate, the band decided to visit Chicago, Denver and Los Angeles for a number of intimate shows in more traditional, theatrical venues. This past Saturday and Sunday, they played the Los Angeles perfect venue for this 'mellower' show… the Theatre at the Ace Hotel.
Opener Chuck Ragan set the mood for the evening by taking the stage solo, armed with only an acoustic guitar and his gruff, gravely voice. Rise Against then took the stage and began their set with a song called The Violence. On 2017's Wolves, that song is a fast-paced rocker about overcoming our violent tendencies as a species. But at Sunday night's show, it was transformed into a slower, more thought-provoking piece with a string accompaniment that elevates it to a higher emotional level.
From there, they band went on to play close to 20 of their best songs from the span of their entire career, all given new life thanks to the unique additions to the band: Joshua Bows on violin, John Grigsby on upright bass and Samantha Sidwell on cello. The strings mixed with the acoustic guitar not only made the songs feel different, it gave a stronger emphasis to many of Rise Against's 'woke' lyrics.
A few times during the show, lead singer and guitarist, Tim McIlrath, reminisced about how far the band has come. He told the crowd that when they first started, they were playing small venues like Chain Reaction and the Troubadour, "I don't think those kids in that van ever thought we'd be at a theater like this. It's way too fancy for us." The crowd, many of whom have been with the band since those days, cheered that sentiment enthusiastically.
Those fans of Rise Against were thrilled with the band's song choices and sang along gleefully to every tune. They were even gifted with a number of surprise covers like 'For Fiona' (No Use For A Name), 'Do You Still Hate Me?' (Jawbreaker) and Ohio (Crosby, Stills, Nash & Young). Before playing Ohio, McIlrath explained that CSNY was an important influence on Rise Against because they were all about "Activism and change… Creating friction."
And Rise Against has never been a band to shy away from making political comments or trying new sounds in an effort to create that friction. It was evident by their heartfelt and entertaining performance at the Ace this weekend. By the end of the night, they had the crowd riled up and gleefully singing along to one of the band's most serious songs, 'Prayer of the Refugee.' And when the lights came up, there wasn't a disappointed concert-goer in the bunch.
Video Slider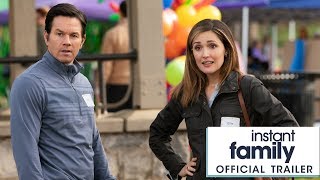 Win a Blu-ray + DVD + Digital Copy of Instant Family
Everyone everywhere can now enjoy Instant Family on Digital and on Blu-ray™ Combo Pack, and DVD on March 5 from Paramount Home Media Distribution. For a chance to enter to win at random, please email us at
[email protected]
with "Instant Family\" in the subject line and let us know why you\'d like to win a copy. This contest ends March 25, 2019.
"http://lol-la.com/wp-content/uploads/2019/05/MTH-190039-Feel-The-Fame-Remarketing-Banner-728X90.jpg">
"http://lol-la.com/wp-content/uploads/2019/04/7.png" alt="disney on ice banner">
"http://lol-la.com/wp-content/uploads/2019/07/HB19_DIGITAL_HERBIEHANCOCK_PROMO_728x90.jpg">
"http://lol-la.com/wp-content/uploads/2019/07/Living-Out-Loud-LA-for-Air-Supply-728x90.jpg">
"http://lol-la.com/wp-content/uploads/2019/07/JoseLuisRodriguez_728x90.jpg">
http://lol-la.com/wp-content/uploads/2019/07/Yachtley_Crew-728x90.jpg">