Review: Regional Mexican Music Star Paquita la del Barrio Packs the Microsoft Theater
Paquita la del Barrio celebrated her 45 years in music at Microsoft Theater. (Dario Molina / The 3 Collective)
She's honest. She's real. She keeps it plain and simple, even on stage while performing live. I'm of course describing regional Mexican music singer Paquita la del Barrio, who on Saturday, Feb. 27, delivered an entertaining show to a packed Microsoft Theater in downtown Los Angeles.
The concert, organized by acclaimed music promoter AEG Live Latino, served as a means to celebrate la del Barrio's impactful music catalogue that dates back 45 years. That's impressive in itself, but even more impressive was her performance which featured some of her friends: Mexican singer and L.A.-based Marisela, Mexican-American Graciela Beltran, Mexican cutie Diana Reyes, Argentine Ana Victoria and Sonora Santanera.
Mexico-based tropical music ensemble Sonora Santanera delivered a perfect set. Not only were they dressed sharply, but the band also sang eclectically with the likes of their rhythmic roots from mambo, cha-cha-cha, bolero, cumbia and merengue. The four principle voices (accompanied by percussion, piano, bass and trumpets) singing "Si Supieras" and "Perfume de Gardenias" were crowd favorites.
Despite the impeccable opening of Sonora Santanera, the venue and its fans awaited the one-and-only la del Barrio, who is truly adored by the Latin community within the greater L.A. area. Why? She despises men, in general, as in, many have hurt her over the years – including her rumored ex-husband who cheated on her with her own sister. And her emotions are forever felt in her tracks, especially the ever-famous "Rata de Dos Patas."
This tune has given la del Barrio much fame since its release in 2004. It tackles the clear subject of men mistreating women. And when she uttered her popular phrase, "¿Me estás oyendo, inútil?", the audience (particularly men) loved it and cheered in delight even though it is directed at men.
Throughout the night, la del Barrio, now 68, sang along her orchestra and mariachi, simultaneously.
The moment "Tres veces te engañé" came, the crowd roared in celebration while at times singing along. The audience also very much enjoyed "Cheque en blanco" and "Soltero maduro."
The true delight of the night, however, arrived when each of her friends performed one song with la del Barrio on top of one solo. For example, Diana Reyes and Paquita sang "Me Saludas a La Tuya" together before Reyes performed "Yo No Creo en Los Hombres."
All in all, la del Barrio did indeed celebrate her 45-year musical career in style, with friends and, most importantly, with above par music that more than satisfied the near 4,000 fans in attendance. It was spectacular, to the say the very least.
Video Slider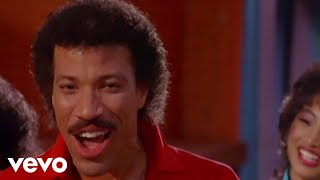 Win Tickets to See Lionel Richie at Hollywood Bowl
Lionel Richie is performing with very special guest Mariah Carey on the All the Hits Tour, and your chance to see them is at the Hollywood Bowl on Monday, July 31.