Review: Puzzle is a Slight but Finely-Etched Character Study
Kelly MacDonald as Agnes in Puzzle (Sony Pictures Classics)
Few stories are more relatable than those about people who cannot fulfill their full potential, because with few exceptions, nearly everyone alive fits that description. Agnes (Kelly MacDonald), the protagonist of Puzzle, is one of those people, a bored housewife much smarter and inquisitive than she appears, trapped in a suburban existence that is the only type of life she knows. Unfulfilled housewives are Hollywood staple – Joan Allen made a career out of them, from seventies swingers to Puritans to the most unfulfilled wife of them all, Pat Nixon – but Agnes's predicament and her eventual rebellion feel even smaller and more human than most stories of the type. She doesn't try to remake her life in ways that are that major. She finds a new hobby: jigsaw puzzles.
Despite the title, the film is not really about jigsaw puzzles, which are about as uncinematic a pursuit as one could imagine. Putting together a jigsaw puzzle is slow, deliberate and solitary, although the film solves that last problem by having Agnes work with jigsaw champion Robert (Irrfan Khan of Slumdog Millionaire and The Life of Pi) to enter a tournament that tests how quickly a team can put together a puzzle. What the film is really about is Agnes finding ways to escape her dreary life and find the intellectual stimulation that she sorely lacks. She has a husband (David Denman) and two grown sons (Austin Abrams, Bubba Weiler) and a social life centered around her church, but she is a deeper critical thinker than she actually appears, and jigsaw puzzles demonstrate that.
Agnes is a most ordinary person who is nonetheless far smarter than she appears, but Puzzle does not stretch her abilities too far, and that is simultaneously the appeal and the limitation of the movie. She has a very specialized skill, and the movie suggests that she could have been a more intellectually-fulfilled person than she turned out to be, had she been given greater opportunities. But Puzzle never takes it too far, suggesting that she's an unappreciated genius, just a woman who has been slighted by life and deserves better, including more respect from both her husband and her sons. This gives the film a delicate quality, but also limits it and makes it feel as if it's from another era. People like Agnes obviously exist, but in far fewer numbers now that women have made strides toward equality over the decades.
Even though the story is slight, it does have its charms. Kelly MacDonald has always been an affecting, sympathetic actress, such as when she played the doomed wife in No Country for Old Men, and here those talents are put to good use. The film also makes her sons more interesting than they originally seem. The older one (Weiler) at first seems like the family screw-up and the younger (Abrams) the more promising son, but Puzzle finds more hope for the former than expected, and the changes that Agnes makes to her life help give her older son hope.
Puzzle is not a particularly ambitious film, but it is attentive to its characters and their plights, and portrays Agnes's world with a specificity that makes her struggle seem more distinct than the typical story of an underappreciated housewife, and the film generally finds ways to avoid the cliched aspects of the story. Many of the film's events are predictable, but director Marc Turtletaub (better known as a producer of films such as Little Miss Sunshine and Loving) puts just enough of a spin on them that they don't feel too cliched. Puzzle is simple, unassuming, but heartfelt and intensely sympathetic to its characters.
—————————————————————–
Puzzle
Sony Pictures Classics
Now in theaters
3 Stars
Films are rated on a scale of 5 stars(must-see), 4 stars (exceptional), 3 stars (solid), 2 stars (average) and 1 star (unworthy).
Video Slider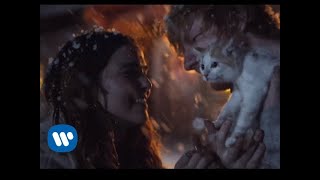 Win Tickets to See Ed Sheeran at the Rose Bowl
Ed Sheeran is back in Los Angeles, and your chance to see him perform is at the Rose Bowl in Pasadena on Saturday, Aug. 18. We are giving away complimentary tickets to the show. For a chance to enter to win, email us at
[email protected]
with "Ed Sheeran" in the subject line and tell us why you would like to go.