Review: Predictable Yet Satisfying, The Hitman's Bodyguard
Ryan Reynolds as Michael Bryce and Samuel L. Jackson as Darius Kincaid in The Hitman's Bodyguard
There is a certain class of movie that is meant for a Saturday afternoon showing on cable. Think of a lazy afternoon where a person might have some chores around the house to complete, but wants something watchable yet undemanding while sitting on the couch. The Hitman's Bodyguard is one of those movies, a buddy action movie that is as funny as it is formulaic. But certain plots become formulas for a reason, and it is usually because they are effective, as they are in this movie, which contains almost nothing audiences haven't seen before, but nothing they won't mind seeing again.
The Hitman's Bodyguard stars Ryan Reynolds as Michael Bryce, the former owner of a high-end security company whose business falls apart after one of the people he has been hired to protect is murdered. When an Interpol mission to protect the contract killer Darius Kincaid (Samuel L. Jackson) falls apart, Bryce must protect Kincaid himself and get him from England to the Hague to testify against the genocidal dictator of Belarus (Gary Oldman), whose men have infiltrated Interpol and wish to stop Kincaid's testimony by any means necessary.
To no one's surprise, one is straight-laced, by-the-books yet arrogant, and the other is crazy, wild and profane, and guessing which one is Reynolds and which one is Jackson requires only a minimal amount of cognitive ability. This is a film where the producers hired Reynolds to do his shtick and Jackson to do his, and they more than complete the task.
Anyone who has seen a Lethal Weapon, Rush Hour or any of their countless imitators knows exactly the type of movie The Hitman's Bodyguard is, and that might just be the film's appeal. Action buddy comedies may almost never be great art, but they're usually good enough entertainment, especially when the personalities are so strong, as they are here.
Reynolds got his start on sitcoms, and that always shows in films like these, where he has to banter as much as he brawls. It makes him amusing when he does action, since Reynolds always seems like a Ken Doll convinced he's a G.I. Joe. Jackson is also fun, even if his zesty joie de vivre sometimes becomes a little much. Best of all is Salma Hayek in an extended cameo as Kincaid's imprisoned wife. As with everything else in the movie, there is nothing surprising about Hayek doing a brassy Latina spitfire, but when she gets as many laughs as Hayek does in the role, it is hard to complain.
As an action film, The Hitman's Bodyguard has some impressively staged set pieces, but the real draw is the comedy. Even by the standards of the action-comedy genre, the movie draws more laughs than one would expect, and the lack of self-seriousness helps the audience suspend disbelief at some of the movie's more ludicrous moments. Despite the European settings that evoke those franchises, this isn't Jason Bourne or even James Bond, where the stakes aren't meant to seem in any sense real, nor should they. It's two archetypes squabbling in a predictable but entertaining way, hardly requiring any real statement on the world in which we live. Even when The Hitman's Bodyguard does allude to the irony that Bryce legally protects terrible people while Kincaid illegally murders them, it does so halfheartedly before getting back to the two characters fighting bad guys and exchanging quips.
However predictable The Hitman's Bodyguard might be, it hits the exact beats that it does because they work. It'll satisfy anyone who sees it in the theater this month and will absolutely delight anyone who watches it from their couch on either USA or TNT sometime in 2019.
———————————————————-
The Hitman's Bodyguard
Lionsgate, Summit Entertainment
In theaters Aug. 18
3 Stars
Films are rated on a scale of 5 stars (must-see), 4 stars (exceptional), 3 stars (solid), 2 stars (average) and 1 star (unworthy).
Video Slider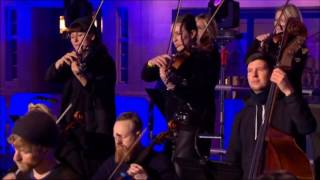 Win Tickets to See Pete Tong at Hollywood Bowl
Pete Tong is back in Los Angeles, and your chance to see him perform is at Hollywood Bowl on Thursday, Nov. 9. We are giving away complimentary tickets to the show. For a chance to enter to win, email us at
[email protected]
with "Pete Tong" in the subject line and tell us why you would like to go.