Review: Person to Person Is Mild But Beguiling
Michael Cera and Abbi Jacobson in Person to Person (Magnolia Pictures)
A gently appealing slice of Gotham life, Person to Person has a number of advantages over its countless Woody Allen-inspired brethren, starting with its ability to know the limitations of its audience's patience. Directed by relative unknown Dustin Guy Defa and starring millennial proto-icons Abbi Jacobson (of "Broad City" fame) and Michael Cera (of … well, you know who he is), the film is yet another in a long line of love-lorn letters to New York City – or at least the cinematic dreamscape version, populated by quirky, overeducated loners in unrealistically nice apartments. To Defa's great credit, however, he manages to inject a slightly more believable brand of big-city eccentricity into his otherwise shopworn, ensemble-driven picture.
Utilizing the time-tested gimmick of intercutting different narratives to ironic effect, Person tracks along with a nerdy, yet somehow also grizzled crime-scene journalist (Cera) as he guides his timid trainee (Jacobson) through the ins and outs of a lurid murder mystery involving a wealthy widow (Michaela Watkins) and her recently dispatched husband. On a parallel – if less compelling – track, we find hipster record-store owner Benny (played dutifully by his real-world analogue, Bene Coopersmith), as he attempts to find a rare Charlie Parker album while waxing philosophical about his beloved 20th-century tunes. Interspersed with all this are ditties regarding sharp teen Wendy (Tavi Gevinson) expressing her annoyance with a friend's feckless hook-up, as well as Bene's roommate Ray who struggles to cope with the aftermath of his creating a sex tape without his would-be girlfriend's knowledge.
The theme uniting these disparate threads is that of isolation and a failure to communicate – thus the title – which isolates these urban explorers in their own niche stratospheres. Though the various strains rarely coalesce to a coherent whole, they do manage to derive some wiseacre charm, whiskey-eyed profundity and even a few legitimate pulpy thrills in their own way.
Performance-wise, pallets vary. Cera delivers a quasi-unhinged turn as the hack journalist, blaring his own metal band's shredding songs as he cruises around town. Gevinson also fairs well, bringing a lived-in humanity to what could have otherwise been a cliche character. Jacobson sadly does not bring very much range to her one-note, mousey naif. Coopersmith has admirable gumption and a unique look, but clearly little to no experience as an actor.
Person to Person succeeds in parts but sometimes falters as a larger body of work. The cinematography has a pleasant, amber-hued aesthetic, but rarely reaches for anything above mildly proficient. That said, the film benefits greatly from its crisp, whip-tight editing, as this brand of picture typically sags under bloated run time. Overall, when compared to New York, I Love You and its wave of imitators and cohorts, Person manages to live up to its thesis with greater (if not regular) frequency, rendering the sublime from the banal like blood from a stone.
———————————————————-
Person to Person
Magnolia Pictures
Now in theaters
3 Stars
Films are rated on a scale of 5 stars (must-see), 4 stars (exceptional), 3 stars (solid), 2 stars (average) and 1 star (unworthy).
Video Slider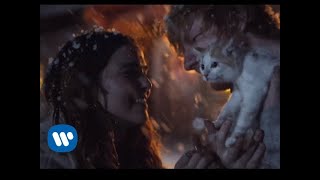 Win Tickets to See Ed Sheeran at the Rose Bowl
Ed Sheeran is back in Los Angeles, and your chance to see him perform is at the Rose Bowl in Pasadena on Saturday, Aug. 18. We are giving away complimentary tickets to the show. For a chance to enter to win, email us at
[email protected]
with "Ed Sheeran" in the subject line and tell us why you would like to go.