Review: Paolo Sorrentino Successfully Ages into Youth
Michael Caine as Fred and Harvey Keitel as Mick in Youth (Gianni Fiorito/Fox Searchlight)
When noted Italian auteur Paolo Sorrentino (Il Divo) made his English-language debut with 2011's This Must Be the Place starring Sean Penn, the critical reception was a tad less than welcoming. With four years and an Oscar-winning film (The Great Beauty) separating him from that rare misstep, the prolific Sorrentino ventures outside of his native Italy to far better results with his latest elegant, heart-rending feature, Youth.
The plot conceit at play is a deceptively simple one: Two best friends – both important artists nearing the end of the autumn of their lives – attempt to reconcile personal and professional complications while vacationing at an exclusive resort in the Swiss Alps. Fred (Michael Caine) is a world-renowned British composer whose frosty veneer has put a wedge in his relationship with doting daughter/assistant Lena (Rachel Weisz). Mickey (Harvey Keitel) is an over-the-hill American director who has holed up at the hotel with a cadre of young screenwriters in order to craft his final cinematic "testament." The two men have been thick as thieves for years, but they both stop short of personal transparency, preferring to instead limit their lively conversations to "the good things" – mostly sex and the nature of growing older.
However, in reality, the aging iconoclasts both face crucibles of their own making. Fred is most known for a series of "simple songs" he wrote to be sung by his wife, who now withers away in an institution, a victim of their loveless marriage. Though he has put his complicity in her illness behind him, an invitation to perform the songs in front of the Queen of England brings about deep-seeded feelings of loss and regret. Meanwhile, Mickey's would be opus faces ruin as his one-time muse, Brenda Morel (Jane Fonda), has abandoned both him and the project in a cruelly cold fashion, thus wreaking havoc on his creative self-esteem. As Fred and Mickey wrestle with reality, their paths collide with a number of colorful fellow guests, including disaffected movie star Jimmy Tree (Paul Dano), surprisingly insightful Miss Universe (Madalina Diana Ghenea) and obese former soccer player Diego Maradona (Roly Serrano).
As with all of Sorrentino's films, Youth takes place somewhere between our world and a surreal, kaleidoscopic dreamscape. Fred conducts a symphony of cows in a meadow, a Buddhist monk attains the power of levitation and everyone generally acts like they're operating on a separate plane of being than the rest of us. That being said, no matter how elevated the material may get, it's all grounded in a thoroughly authentic emotional current, the core of which is supported by an incredible cast of actors at the top of their respective games. The ever-consistent Caine delivers a wonderfully wry turn as the blue-blooded Fred, and the magical Weisz conjures potent gravity for a character that might have been overshadowed in the hands of a lesser performer. Special kudos are due to Keitel, who, after a few years of laying-low, explodes back into the pantheon of all-time greats with his deftly understated, yet searingly powerful portrayal of the kind-hearted Mickey.
Overall, I'm happy to report that Paolo Sorrentino has at long last found a way to translate his particular cinematic oeuvre into English without sacrificing any of its singular luster. Youth pops off the screen with virtuoso visuals, luscious locations and an eye-opening perspective all its own. If only more so-called "art-house" imports could entertain so thoroughly.
———————————————————-
Youth
Fox Searchlight
In theaters Dec. 4
4.5 Stars
Films are rated on a scale of 5 stars (must-see), 4 stars (exceptional), 3 stars (solid), 2 stars (average) and 1 star (unworthy).
Video Slider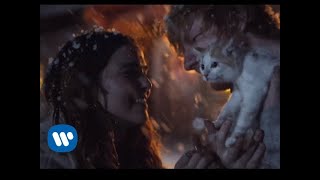 Win Tickets to See Ed Sheeran at the Rose Bowl
Ed Sheeran is back in Los Angeles, and your chance to see him perform is at the Rose Bowl in Pasadena on Saturday, Aug. 18. We are giving away complimentary tickets to the show. For a chance to enter to win, email us at
[email protected]
with "Ed Sheeran" in the subject line and tell us why you would like to go.