Review: Pacific Opera Project's "Don Giovanni" Will Seduce You
I have been reviewing most of Pacific Opera Project's (POP) productions for over the past 5 years and I must say that there has never been a dull moment. From the outrageous and very naughty baroque opera "La Calisto" by Francesco Cavalli, the out of this world Star Trek inspired "Abduction from the Seraglio" by Mozart, the excellent "The Rake's Progress" by Igor Stravinsky and now their very sophisticated and elegant version of "Don Giovanni" also by Mozart.
With each passing year, founding member Josh Shaw, who wears multiple hats as artistic director, set designer/builder, presenter, librettist (he translated the Abduction libretto to suit the Star Trek theme) and I may add visionary, has upped his game with each production.
Unlike most of their presentations which take place at the Highland Park Ebell Club, this Don Giovanni is being produced at The Vortex warehouse space located just south of the Arts District, bordering Boyle Heights and the Los Angeles river. This larger space, filled with graffiti art, very tall, open truss ceilings is able to accommodate a much wider, multi-level white washed stage design as well as more cabaret style seating (tickets include a bottle of wine and plate of finger food) which is one of POP's signature elements, along with long communal tables and rear, tiered general seating.
The story of Don Giovanni harks back to the incorrigible, womanizing character of Don Juan which appeared in Spanish folklore in the early 1600's and was the subject of many dramas and operas prior to Wolfgang Amadeus Mozart's version when it debuted at Prague's Estates Theater in 1787. The libretto by Lorenzo Da Ponte, which includes comic, supernatural, serious themes and sexual situations, was a huge hit with audiences making it one of the greatest operas of all times.
In an appropriate casting decision, Shaw selected Latino bass-baritone Adrian Rosas, who played the role of Nick Shadow (the Devil) in POP's production of "The Rake's Progress" to great acclaim by critics, including myself, as Don Giovanni. Possessing a deep, rich voice and striking stage presence, he is the center of attention, literally, giving the audience a potent, overall performance that goes from a smooth, narcissistic, arrogant cad to a scared wimp , when he meets his final doom. As his faithful man-servant Leporello, bass-baritone E. Scott Levin who is a regular POP artist, serves not only as an outstanding comic relief role but has some serious dramatic moments where he showcases his strong and versatile vocal skills. He is the trouble shooter and enabler for Giovanni, as the villain tries to chalk as many conquests for his "little black book".
Shaw has set the opera as a gangster storyline, a la Dick Tracy comics which debuted during the early 1930's and was made into a 1990 film of starring Warren Beatty and Madonna. In the film, the leading characters are dressed in primary, bold colors which POP's talented costume designer Maggie Green has ceased upon while making her own interpretations, with special detail given to the ladies attires and accessories.
For this complex and sophisticated production, the evening's musical accompaniment was up to par, thanks to award winning musical director/conductor Ryan Murray who led an outstanding group of 17 musicians and chorus. Even though the ensemble was tucked in an adjacent niche space they managed to produce a strong sound that was full, rich and loaded with detail.
The first victim to fall for Giovanni's lecherous ways is Donna Anna, played by the talented soprano Saira Frank, dressed in lovely blue attire. As she begs for him to reveal himself behind a mask, her father, the Commendatore, played by the imposing bass Adrew Potter interrupts his attempt at raping her, a fight ensues and the father is killed. Possessing an outstanding vocal instrument, Ms. Frank wowed everyone in this role with gorgeous notes and high, pure legatos that hovered over the orchestra effortlessly.
Playing the part of Giovanni's scorned ex-lover Donna Elvira, is the alluring soprano Daria Somers, who I loved as Tosca in POP's production of that opera. Once again she proves to be a versatile singer with great acting skills, lovely high notes and knockout coloratura. There is no better acting role than that of a woman scorned and Somers performance was one of the highlights of the evening.
Portraying the third, main female role is soprano Tiffany Ho as Zerlina, who has to convince her fiancé, Masetto, played by baritone Luvi Avendado, that she was not really interested in Giovanni's come-ons. Both singers are excellent in these comedic roles and on a par vocally with the rest of the large cast which includes tenor Robert Norman, another POP regular, giving one of his best performances to date that I have been lucky to enjoy.
In the final act, we find Giovanni in his lair, reveling about his sexual escapades, unrepentant in his ways. He hears a knock on the door but Leporello is too afraid to answer as he and Donna Elvira had previously witness a statute outside speaking to them. When Giovanni opens the door, he is confronted with the reincarnated Commendatore as that statue, demanding that he repent while singing the aria "Don Giovanni! A cenar teco m'invitasti/Don Giovanni! You invited me to dine with you". The 6'-10" tall Potter's powerful presence and projected voice seemed to shake the entire space as his backlit figure oozed smoke from the background for a supernatural context. Don Giovanni, in his desperation and unwillingness to repent attempts to shoot him but fails, bringing his life to a Faustian end as he descends to hell.
Video Slider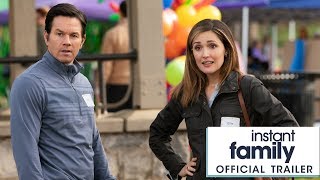 Win a Blu-ray + DVD + Digital Copy of Instant Family
Everyone everywhere can now enjoy Instant Family on Digital and on Blu-ray™ Combo Pack, and DVD on March 5 from Paramount Home Media Distribution. For a chance to enter to win at random, please email us at
[email protected]
with "Instant Family\" in the subject line and let us know why you\'d like to win a copy. This contest ends March 25, 2019.