Review: One of Ben Stiller's Best Performances in Brad's Status
Ben Stiller in Brad's Status (Jonathan Wenk/Amazon Studios)
Sentimentality is not a quality that people tend to associate with either Ben Stiller or Mike White, the star and writer/director of Brad's Status, but the two talents, better known for sardonic and deeply uncomfortable comedy, have made a film that exalts family and suburban living in a way that recalls Steven Spielberg or even Frank Capra. Stiller and White are often edgy, off-kilter talents, so seeing them go conventional seems more perverse than anything either has done in years.
Stiller stars as Brad Sloan, the owner of a Sacramento nonprofit whose son Troy (Austin Abrams) is preparing for college and wants to visit the east coast to look at colleges. This causes Brad to take stock of his life as he reminisces about his college experiences and compares himself to his various classmates who have achieved monumental success: a pompous George Stephanopoulos-type political journalist (Michael Sheen), a retired tech giant (Jemaine Clement), a Hollywood director (White) and a wealthy hedge fund manager (Luke Wilson). While visiting Harvard, Brad gets in touch with his former classmates and learns about the unseen complexities of their lives while attempting to give the best experience to his son.
There is always a certain irony in films such as this, which have as their thesis that it's better to have a stable, normal life with a traditional family than to live an exciting life filled with wealth and excitement. It is possible to detect a whiff of condescension when famous Hollywood actors do movies that say the best lives are those lived by the audience for the films, when most people would gladly trade a mundane life in Sacramento for the fame and fortune that a Ben Stiller has. This is not a problem particular to Stiller and White's version, but it might seem more pronounced when it comes from two people who specialize in irony and discomfort than when it comes from purveyors of schmaltz like Spielberg and Capra.

Even though Stiller and White might seem to be imperfect messengers for advocating the superiority of a conventional lifestyle, the most surprising thing about Brad's Status is just how effectively they do it. Stiller is better than he has been in years as the discontented Brad, and even if he doesn't quite seem like an obvious fit for a Hanksian everyman, Stiller brings an underlying rage to the character that makes his discontent seem visceral. This ranks as one of Stiller's best performances, alongside Greenberg and Flirting With Disaster, and like those, he is able to balance the more comedic moments with pathos.
Because the film is the brainchild of White, the writer of this year's independent success Beatriz at Dinner, Brad's Status does make its situation a bit more complex than it initially seems. The film is at its best when it punctures Brad's sense of misery over his situation. White is able to do this in a way that is tougher on his characters than most writers. If this film isn't quite as fully-formed a work as his previously screenplay, it still shares most of its best qualities, including a perceptiveness about human weakness and a willingness to add complexity to seemingly simple stories.
Some of the situations in Brad's Status are a little too clear-cut, particularly when the movie shows the failings of Brad's more successful friends, but at the same time, White shows nuance where few would expect. This might be the first portrayal of a college social warrior type where the character is shown to be more sensible than the adults.

Brad's Status works best as portrait of a man in the midst of a midlife crisis whose complaints aren't really as serious as he believes. It shines when it is toughest on its protagonist, and when it does, it gives Ben Stiller his best role in ages.
———————————————————-
Brad's Status
Annapurna Pictures, Amazon Studios
In select theaters Sept. 15
3 Stars
Films are rated on a scale of 5 stars (must-see), 4 stars (exceptional), 3 stars (solid), 2 stars (average) and 1 star (unworthy).
Video Slider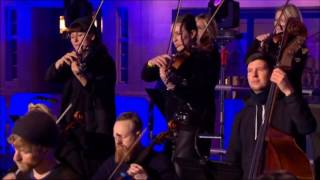 Win Tickets to See Pete Tong at Hollywood Bowl
Pete Tong is back in Los Angeles, and your chance to see him perform is at Hollywood Bowl on Thursday, Nov. 9. We are giving away complimentary tickets to the show. For a chance to enter to win, email us at
[email protected]
with "Pete Tong" in the subject line and tell us why you would like to go.