Review: Nuanced Performances Under the Sure Hand of Director Colette Bothof Make Summer Shine
Anne (Sigrid ten Napel) and Lena (Jade Olieberg) in Summer (Wolfe Video)
Proposing a riveting context framework of ambiguous spirituality and nascent digitalization, noted Dutch auteur Colette Bothof's second feature, Summer, earmarks charming character dramedy with wide-arching societal screeds that cut to the heart of the contemporary zeitgeist. Despite this lofty thesis, there remains a warm, emotional core to this contained tale of an introverted young girl coming into her own during that most transformative of seasons.
Marjolein Bieren's unpolished script could have easily devolved into treacly kiddie-fare if handed to a lesser director, but the steady-handed Bothof manages the wide-eyed morality tale with a singular assuredness, presenting it with a bravura visual style that brings all the disparate plot elements together under one distinct aesthetic. The central protagonist is Anne (Sigrid ten Napel), whose introductory voiceover acts as kick-off and summation of the film's raison d'être: "I had no idea what could change in just one summer".
Set in a remote Dutch hamlet defined by a looming power-plant, the film follows the shy 16-year-old who yearns for something more than a banal existence strung up amidst the many electric cables which crisscross her hometown like a spider web. One sweltering summer, Anne's life is shaken up when she meets Lena (Jade Olieberg), a leather-clad sex bomb equipped with a slick motorcycle and the attitude to match. Suddenly, Anne's rising sexuality is piqued in an unexpected manner by Lena's hard-living charm.
Coping with her newfound sexual identity, Anne enters something of a relationship with Lena, only to find their burgeoning connection shattered after a gang of homophobic youths mercilessly berate them following a night at a sleazy disco. Faced with the erosion of her old friend group, Anne must make a tough decision: follow her heart with Lena, or make the "practical choice" and stick with what she knows.
Though sometimes Summer allows some try-hard quirks to overwhelm the narrative (A maddeningly off-beat score serves only to distract.), Bothof manages for the most part to keep things on track by guiding her young leads to tremendously mature, nuanced performances, which bring the characters to vital life. In addition, cinematographer Goert Giltay's raw, handheld aesthetic does wonders to ground the occasionally over-the-top proceedings in the real world. Indeed, Summer may not be perfect, but in the pantheon of coming-of-age indies, the film sets itself apart by not trying too hard to win the audience over with maudlin sentimentality, instead allowing the characters to earnestly speak for themselves.
———————————————————-


Summer


Wolfe Video
On VOD Now
4 Stars
Films are rated on a scale of 5 stars (must-see), 4 stars (exceptional), 3 stars (solid), 2 stars (average) and 1 star (unworthy).
Video Slider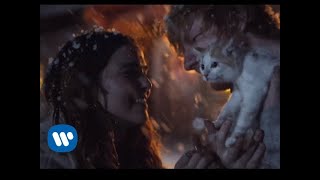 Win Tickets to See Ed Sheeran at the Rose Bowl
Ed Sheeran is back in Los Angeles, and your chance to see him perform is at the Rose Bowl in Pasadena on Saturday, Aug. 18. We are giving away complimentary tickets to the show. For a chance to enter to win, email us at
[email protected]
with "Ed Sheeran" in the subject line and tell us why you would like to go.