Review: Norah Jones Previews New Album at KCRW's Apogee Sessions
KCRW's Apogee Sessions featuring Norah Jones airs Sept. 28 on Morning Becomes Eclectic.
In the 14 years since the release of her multi-Grammy-winning, 11-times Platinum debut album, Come Away With Me, Norah Jones has branched out from being a jazz pianist and singer-songwriter to explore folk, country, blues and rock in collaborations with Ray Charles, Willie Nelson, Foo Fighters, Danger Mouse, Talib Kweli, Ryan Adams and Billie Joe Armstrong. On her upcoming work, Day Breaks – set for an Oct. 7 release – she returns to her piano-driven jazz roots.
The Brooklyn based artist previewed several of the tracks from Day Breaks last night at an intimate recording of KCRW's Apogee Sessions in Santa Monica. The entire evening is going to be broadcast and available to stream on KCRW's Morning Becomes Eclectic on Wednesday, Sept. 28. Apogee Studio, legendary producer/mixer Bob Clearmountain's private studio, provided a beautiful setting as about 200 supporters of the station nibbled on snacks and sipped wine or Beam Suntory cocktails in anticipation of the set to begin.
She opened the set with one of the new songs, "Tragedy," before revisiting 2012's Little Broken Hearts album that was produced by Danger Mouse with the upbeat "Out on the Road" and the eerie guitar effects-laden title track. A pair of songs from the upcoming release closed out the first part of the night: the funky, piano-laden "Flipside," which had amazing energy punctuated by Greg Wieczorek's pulsating drums and she referred to as having a '70s Elvis outro, and "Carry On" that featured stand-up bass by Josh Lattanzi and killer Hammond B3 organ by Pete Remm.
Jones was in town to perform at for the Petty Fest benefit concerts earlier in the week, where the musicians in her band comprise the house act, the Cabin Down Below Band, and she remarked that it felt good to be playing music. While she was a bit reserved and shy in an interview intermission with Anne Litt – during which her musical evolution and the new album's inspiration were discussed – once she sat at the piano and sang, she was a natural performer.
Her ability to emote with her smoky trademark vocals during her breakout hit, "Don't Know Why," which I'm sure she has performed thousands of times, was still remarkable and breathtaking. "It's A Wonderful Time for Love" hearkened back to old-time jazz, while Jones picked up her electric guitar and jammed while guitarist Jason Abraham Roberts absolutely shredded on "Stuck" from 2009's The Fall. Jones strapped on her acoustic guitar for the final song of the night, a soulful cover of the Grateful Dead's "It Must Have Been the Roses."
All in all, it was a lovely evening full of extraordinary performances from Norah Jones and her entire band – a perfect taste of Day Breaks to whet her fans' appetites for what else the album holds.
Day Breaks will be available Oct. 7. KCRW's Apogee Sessions featuring Norah Jones broadcasts and streams on KCRW's Morning Becomes Eclectic on Sept. 28. Norah Jones performs Oct. 25 at the Greek Theatre. For more information, visit kcrw.com and norahjones.com.
Video Slider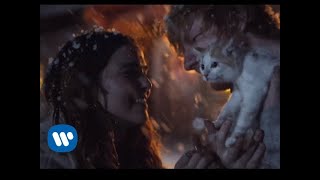 Win Tickets to See Ed Sheeran at the Rose Bowl
Ed Sheeran is back in Los Angeles, and your chance to see him perform is at the Rose Bowl in Pasadena on Saturday, Aug. 18. We are giving away complimentary tickets to the show. For a chance to enter to win, email us at
[email protected]
with "Ed Sheeran" in the subject line and tell us why you would like to go.