Review: mother!, the Most Disturbing Movie of the Year
Jennifer Lawrence in mother! (Niko Tavernise/Paramount Pictures)
Darren Aronofsky has a reputation as a respectable director, but make no mistake about it, the man is a director of horror movies. It seems wrong to categorize him as an expert in horror, because the genre is considered so déclassé – the most famous examples of directors in the genre like Wes Craven or John Carpenter don't get nominated for Oscars and don't get Hollywood's biggest female star to appear in their movies – but that makes no difference. Aronofsky specializes in terror, and his latest film, mother! might be his most extreme film yet. For the man who director Requiem for a Dream, that is quite a statement to make.
Jennifer Lawrence stars in mother! as a young wife of a noted poet suffering from writer's block (Javier Bardem) who has been restoring the poet's house after he lost everything in a fire that virtually destroyed the large country home. Their tranquil existence is disrupted by the arrival of a guest (Ed Harris) who has come seeking the poet, and later the guest's wife (Michelle Pfeiffer, as striking as ever), despite the objections of Lawrence's character, who finds their presence rude and intrusive. The guest's arrival leads to an act of violence, and from there the film spirals into complete madness. To describe what happens at the climax of the film would ruin the shock of the ending, and few would believe that a major director would actually portray something so shocking anyway.
mother! may live to shock, but it is a film intended to convey big ideas about artistic creation compared to actual creation of life. This may be horror, but Aronofsky conspicuously makes it the work of a deep thinker who has something to say. It recalls some of the work of Alejandro Inarritu, another acclaimed director who attempts deep philosophical statements, but in the end, is more successful at visceral emotion. Aronofsky could never be as ham-handed at Inarritu, but there's some of the pretension there obvious in retrospect. Lawrence, Bardem and the rest don't play distinct characters, but archetypes and symbols, and it is easy to surmise that the film actually makes less of a bold statement than Aronofsky believes.

And yet, mother! might not be the great statement about artistic creation, but it is one of the most harrowing experiences one could have at the theaters. Aronofsky and Lawrence push themselves further than either has had before, and their utter commitment to the material is astounding. As good as Lawrence is in the role, unlike much of her serious work, an Oscar seems like an inappropriate reward for the role. For experiencing what she does in mother!, Lawrence deserves a puppy to hug and to be told that everything is really okay.
Aside from the fact that Lawrence isn't under the protective wing of David O. Russell, this film marks a departure from her. The typical Lawrence character is mouthy and boisterous, and yet here much of the conflict comes from the fact that her character is expected to be docile and polite in the face of unspeakable rudeness. It in some ways feels like a commentary on how women are expected to behave, and that is perhaps the subtextual message that works best for the film.
"mother!" is not for the faint of heart and contains one of the most shocking scenes ever featured in a major Hollywood release. It is not simply that the film contains gruesome images, it is actually a morally shocking film, which is even a harder feat to achieve. Lesser directors have been splattering the screen with blood and viscera for ages. It takes a director with the skill of Aronofsky to disconcert audiences from a moral sense. This will undoubtedly be the most disturbing movie of the year, and that is precisely what Darren Aronofsky intended.
———————————————————-
mother!
Paramount Pictures
Now in theaters
4 Stars
Films are rated on a scale of 5 stars (must-see), 4 stars (exceptional), 3 stars (solid), 2 stars (average) and 1 star (unworthy).\
Video Slider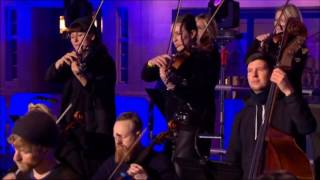 Win Tickets to See Pete Tong at Hollywood Bowl
Pete Tong is back in Los Angeles, and your chance to see him perform is at Hollywood Bowl on Thursday, Nov. 9. We are giving away complimentary tickets to the show. For a chance to enter to win, email us at
[email protected]
with "Pete Tong" in the subject line and tell us why you would like to go.