Review: Mortal Engines is Effective and Entertaining
Hera Hilmar as Hester Shaw in Mortal Engines (Universal Pictures)
Tolstoy famously wrote in Anna Karenina that happy families are all alike, but unhappy families are unhappy in different ways. The same seems to apply to societies, given the proliferation of movies about dystopian societies that each find different ways to imagine just how bad humanity could work if things end up going terribly wrong. Mortal Engines, based on a series of books by Philip Reeve, was first published before the portrayal of dystopian futures became commonplace in cinema, but its film adaptation comes after it became the standard setting for young adult series such as The Hunger Games and Divergent. The film adaptation, produced by Peter Jackson and written by Jackson and his Lord of the Rings collaborators, thus stands as too early and too late. It presaged the stories that Hollywood would be telling a decade later, but had the unfortunate luck to come after so many have passed through cinemas.
The difficulty of creating a story that depicts a dystopia is that it requires a great amount of world-building, and Mortal Engines offers a rather complex one, at that. Every story of this kind has its basic foundation: a catastrophe occurs, most people end up living subsistence lives, the elite still maintain despotic control over others, and generally a resistance force rises up against them. The world of Mortal Engines takes place more than a thousand years after the present day, where mobile cities (London is the focus here) capture smaller cities to use them for fuel. Technological progress has halted, and conflicts remain between societies that are mobile, like London, and those that are not. The man in control of London is Thaddeus Valentine (Hugo Weaving), who has nefarious plans to use lost technology for world domination.
This is all a bit much, and hasn't even really begun to delve into the characters. Hera Hilmar plays Hester Shaw, who sneaks into London to attempt to assassinate Valentine, and Robert Sheehan is Tom Natsworthy, a Historian who thwarts the attempt and becomes her unlikely companion after both are thrown off the moving city. Add in a series of resistance fighters, a seemingly immortal human-robotic hybrid, and various colorful characters and thus becomes a movie that is overstuffed with detail. That it comes from the hand of Peter Jackson, who kept making already extended Lord of the Rings movies even longer and longer, and still is approximately two hours long, seems like a miracle.
It is easy to see how so much of this would work as book, which can luxuriate in descriptions the way that a movie cannot. The plot in a movie has to move, and Mortal Engines has a lot of information to impart before things can actually move in a decent fashion. It makes one appreciate just how effective The Hunger Games was at this. It kept the main story simple and its main characters clearly drawn, thus allowing all the details to be filled in as a secondary concern. Here, the details come before anything else. The story does share one galling trait in common with the story of Katniss Everdeen, a penchant for ridiculous names (Bevis Pod? Chudleigh Pomeroy?) that proves the true fall of society will occur when people start taking naming advice from A-list celebrities.
And yet, once director Christian Rivers finally establishes how this society functions and arranges the plot so that it can move forward, Mortal Engines actually turns out to be somewhat effective and entertaining. The climax of the film, while occasionally lapsing into some too-common pitfalls (just shoot the bad guy already, don't have a conversation!), handles the action quite well, and if it cribs a bit too much from the attack on the Death Star from Star Wars, then it at least knows exactly what it should copy. Mortal Engines might start as overstuffed and excessively detailed, but by the end it finally gets a handle on how to keep everything, including the city of London, moving
—————————————————————–
Mortal Engines
Universal Pictures
Now in theaters
3 Stars
Films are rated on a scale of 5 stars(must-see), 4 stars (exceptional), 3 stars (solid), 2 stars (average) and 1 star (unworthy).
Video Slider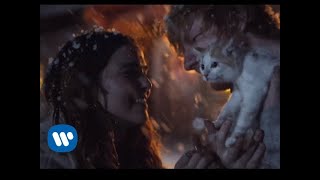 Win Tickets to See Ed Sheeran at the Rose Bowl
Ed Sheeran is back in Los Angeles, and your chance to see him perform is at the Rose Bowl in Pasadena on Saturday, Aug. 18. We are giving away complimentary tickets to the show. For a chance to enter to win, email us at
[email protected]
with "Ed Sheeran" in the subject line and tell us why you would like to go.