Review: Mission to Lars, a Heartwarming Documentary about a Family Coping with Disability
Tom and Kate Spicer in Mission to Lars (Will Spicer)
When one learns that the 'Lars' in the title Mission to Lars is Lars Ulrich, the drummer for Metallica, it seems inevitable that the film would be some sort of mockumentary look into the life of the heavy metal band. This Is Spinal Tap casts a long shadow, even 30 years later. Yet Mission to Lars is absolutely not what one would expect from the film. This is a deadly serious movie, with Ulrich appearing only as a supporting character. In fact, the film is about the journey to see Ulrich, and his presence is welcome but mostly irrelevant to the story behind the movie.
Ulrich may be the big name appearing in Mission to Lars, but the real story is the non-celebrities whose journey to meet the Metallica drummer is the impetus for the film. The story is about Tom Spicer, an adult with Fragile X syndrome whose lifelong dream has been to meet Ulrich. Fragile X syndrome is one of the diagnoses on the autism spectrum, thus even as an adult, Spicer has to live under the care of his family, including his siblings Kate Spicer (a journalist) and William Spicer (who directed the documentary along with James Moore).
Mission to Lars deals primarily with the difficulties the Spicer family has coping with Tom, whose obsession with Ulrich is never explained. They document their journey from England to America to attend various concerts at which Metallica will appear, yet getting Tom to actually meet Ulrich is harder than it appears, not because of any reluctance on the drummer's part, but because Tom's ailment leads him to confusing and often contradictory behavior. This is not a film about Metallica at all; it is a film about the sacrifices a family makes for the son and brother they love.
Do not go into Mission to Lars to get an in-depth look into the drummer from Metallica. This is a heartwarming story about a family doing the best that they can to make the life of their disabled brother better. It may not be the story that audiences expect, but it still remains a story that should be told.
———————————————————-


Mission to Lars


Spicer and Moore


Now in theaters, on DVD and iTunes
3 Stars
Films are rated on a scale of 5 stars (must-see), 4 stars (exceptional), 3 stars (solid), 2 stars (average) and 1 star (unworthy).
Video Slider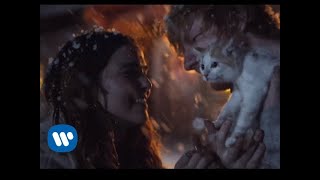 Win Tickets to See Ed Sheeran at the Rose Bowl
Ed Sheeran is back in Los Angeles, and your chance to see him perform is at the Rose Bowl in Pasadena on Saturday, Aug. 18. We are giving away complimentary tickets to the show. For a chance to enter to win, email us at
[email protected]
with "Ed Sheeran" in the subject line and tell us why you would like to go.