Review: Luke Bryan Delights Dodger Stadium
Atlanta Braves superfan Luke Bryan went to extra lengths to win over the Chavez Ravine crowd.
Donning a pristine white Dodgers home jersey and blue Dodgers cap, Bryan, arguably country music's biggest star, rocked sold-out Dodger Stadium so hard he didn't need any extra help winning anyone over Saturday night. But as the great showman and crowd pleaser he famously is, the nice gesture just added to an incredible night of country music at one of the most famous stadiums in America.
As part of the "What Makes You Country XL Stadium Tour", Bryan, along with San Hunt, Jon Pardi and Morgan Wallen brought more than seven hours of sustained energy (about the length of an 18-inning baseball game) to a crowd on a hot summer afternoon in Los Angeles—that's no small feat!
Between bro country jams and twangy, poppy love songs, Bryan had a poignant message for the Dodger Stadium crowd during "Most People Are Good," from his latest album, What Makes You Country: "I believe you love who you love / There ain't nothin' you should be ashamed of."
A message like that would hardly register at a Lady Gaga concert (or almost any concert, for that matter) because that type of show would likely be filled with that type of messaging. But most country music acts know where their bread is buttered and steer clear from those types of messages to avoid commercial ramifications.
Bryan either doesn't care or confidently knows he stands on solid ground in front of any crowd; after you sell out Dodger Stadium, who could blame you? In any case, that moment made for one of the most memorable of the night, especially when he changed the lyrics to "I believe Los Angeles is good," to which the Dodger crowd unsurprisingly replied with raucous excitement.
As the stadium was about half full and still considerably warm (some in traffic, others in line for beer), northern California native Jon Pardi brought his upbeat, throwback sound, which felt just right as the sun was beginning to set. He was followed by Sam Hunt, whose unconventional, genre-fusing style has led to his meteoric rise in the Billboard country charts. Both Pardi and Hunt felt like an ideal preamble to Bryan due to their styles and mainstream appeal. Pardi, whose fans call themselves "Pardi Animals," has the earnest, charming style of Bryan's earlier days, while Hunt has some of Bryan's confidence in looking outside the country genre to make hits that might rub some traditionalists the wrong way, but bring joy to masses of people.
It's hard to explain through pictures and videos, but the entire night—particularly during Bryan's set, when all the seats had been filled—felt extra special. It felt a bit surreal to have a country star fill that type of stadium in southern California. Well, it turns out it was very special, as Bryan became the first country musician to headline and sell out a Major League Baseball stadium.
Still, perhaps Bryan's greatest accomplishment of the night was getting every person at Dodger Stadium to stay until the end.
Video Slider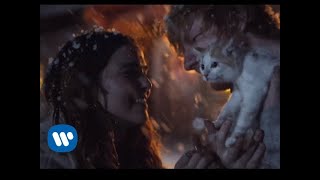 Win Tickets to See Ed Sheeran at the Rose Bowl
Ed Sheeran is back in Los Angeles, and your chance to see him perform is at the Rose Bowl in Pasadena on Saturday, Aug. 18. We are giving away complimentary tickets to the show. For a chance to enter to win, email us at
[email protected]
with "Ed Sheeran" in the subject line and tell us why you would like to go.