Review: Lucha VaVOOM Gives Another Bloody Good Show
A Lucha VaVOOM Halloween is a dead man's party like no other.
Lucha VaVOOM, a variety show unlike any other, celebrated its Halloween installment, "The Smell of Fear" last night at the Mayan Theatre. The event, which combines eye-popping burlesque performances, live comedy by surprise heavy hitters, musical performances by rare talent and, of course, super exciting masked Mexican wrestling, scored another home run with L.A. locals.
The sold-out show, produced by Rita D'Albert and Liz Fairbairn, offered a Halloween-themed extravaganza complete with roaming zombies, burlesque dancing ghouls, roller-skating mavericks and plenty of undead friends. Last night, Lucha VaVOOM succeeded in creating a one-of-a-kind experience for their audience that included cult followers, first-timers and friends – sensory overload with scratch-and-sniff cards, strangers taking pictures together and a substantial massive overflow of bloody good drinks.
Highlights included the leather-clad dominatrix XX, who captivated the audience with her seductive dance only to make them squirm as she began eating her entrails. Wrestling favorites like the poop-hurling Dirty Sanchez and the sweet-and-sour Chocolate didn't disappoint and kept the crowd fixed on them even when an unexpected audience of zombies rushed the ring.
The fun-filled night ended with a last-minute performance by the 'raunch' goddess Peaches! Wrapped in glow-in-the-dark tape, she took the stage with her undead pets and gave a glowing performance that had the crowd on their feet and cheering at the top of their lungs. Even the late Liberace made an appearance. It was a dead man's party like no other.
Video Slider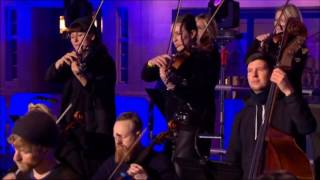 Win Tickets to See Pete Tong at Hollywood Bowl
Pete Tong is back in Los Angeles, and your chance to see him perform is at Hollywood Bowl on Thursday, Nov. 9. We are giving away complimentary tickets to the show. For a chance to enter to win, email us at
[email protected]
with "Pete Tong" in the subject line and tell us why you would like to go.