Review: Lots of Musical Fun in Mamma Mia! Here We Go Again
Lily James, middle, stars as a young Donna in Mamma Mia! Here We Go Again. (Universal Pictures)
For many who saw the original Mamma Mia!, which is now a decade old, the title of the sequel, Mamma Mia! Here We Go Again, seems less like a promise than a threat. The first film, in which Meryl Streep belted ABBA songs alongside noted non-musical talents Pierce Brosnan, Colin Firth and Stellan Skarsgard, was not a good movie, but it was a successful one and thus earned a sequel despite the fact that the ABBA catalog isn't quite deep enough to merit one. By all accounts, Mamma Mia! Here We Go Again, which sidelines its biggest star to a supporting role and shamelessly reuses the biggest of ABBA's hits, should be an even worse movie than the first one, and yet surprisingly it's an improvement: better written, better performed and only silly and campy where it should be rather than earning the unintentional laughs of the first one. No should ever mistake the sequel for a great movie, but it is a fun one, and that's really what matters for a jukebox confection like this.
In the years since the first Mamma Mia!, its lead character Donna (Meryl Streep) has died and her daughter Sophie (Amanda Seyfried) has taken over the hotel on the Greek island that Donna loved while maintaining relationships with her three fathers and Donna's best friends (Christine Baranski, Julie Walters). The story follows Sophie as she struggles to make the hotel a success, while flashing back to the events that inspired the first film, when young Donna (Lily James) first came to Greece and romanced the three young men who would grow up to be played by Brosnan, Firth and Skarsgard. The film's structure is thus eerily similar to The Godfather, Part II, only with fewer Mafia homicides and a lot more Swedish pop songs.
But the plot of Mamma Mia! Here We Go Again is essentially unnecessary, because everything is an excuse for the cast of mostly non-musical performers to belt ABBA songs and dance awkwardly around picturesque Greek island locations. And here, the film improves on the first simply by letting the younger singers do most of the work. Brosnan, Firth and Skarsgard are all dependable performers, but they are middle-aged men who would be few people's choices to perform in a musical, even among actors their age (Travolta or Spacey before their scandals could have done it with ease). The three actors who play their younger selves (Jeremy Irvine, Hugh Skinner, Josh Dylan) perform alongside the infectiously buoyant Lily James with skill, although aside from a clever take on "Waterloo," Skinner doesn't get nearly enough to do compared to his peers.
And then there is Cher, who shows up late in the movie as Sophie's grandmother and belts out "Fernando" to Andy Garcia, not because her character is necessary, but because why not have Cher do it? ABBA was a relic from the seventies known for outrageous costumes and inspiring love both ironic and sincere. Cher's character might not be essential to the movie, but Cher the ageless icon is absolutely necessary to it. She is the manifestation of what this movie should be.
It would be easy to pick apart so much of Mamma Mia! Here We Go Again (how could Cher be the mother to Meryl Streep, given that they're roughly the same age?), but a movie this silly exists outside the demands of any mere demands as plot. This is the type of movie where Meryl Streep shows up just to sing a song, even though the story is based on the fact that her character is dead. And it doesn't matter, because if Meryl Streep wants to show up in a movie to sing an ABBA song, nobody will object. It certainly would have improved The Iron Lady and August: Osage County had she burst into "Dancing Queen" at any moment on screen.
Mamma Mia! Here We Go Again might not be a quality musical in the way that something like Chicago or La La Land might be considered, but its filmmakers know exactly the right tone to strike for this type of disposable entertainment. And any movie where Cher can just show up out of the blue to serenade Andy Garcia while fireworks burst overhead can be forgiven almost anything.
—————————————————————–
Mamma Mia! Here We Go Again
Universal Pictures
Now in theaters
3 Stars
Films are rated on a scale of 5 stars (must-see), 4 stars (exceptional), 3 stars (solid), 2 stars (average) and 1 star (unworthy).
Video Slider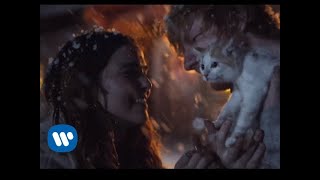 Win Tickets to See Ed Sheeran at the Rose Bowl
Ed Sheeran is back in Los Angeles, and your chance to see him perform is at the Rose Bowl in Pasadena on Saturday, Aug. 18. We are giving away complimentary tickets to the show. For a chance to enter to win, email us at
[email protected]
with "Ed Sheeran" in the subject line and tell us why you would like to go.