Review: Long-Awaited Return of Cuban Hip-Hop Pioneers, Orishas, Reaches the Regent
Orishas were welcomed by their fans at the Regent with loud applause and excitement.
One of the most important exports of the country of Cuba has been its music, which is a fusion of Afro-Cuban percussion and rhythms with melodies and harmonies from Europe, specifically from Spain. From the 18th-century contradanza to the more recent genres of timba and cubaton, the sounds of Cuban music have put the whole world to dance for centuries.
A lesser-known genre associated with the island's music is that of hip hop, which of course was born in the United States' African-American communities. One of the early Cuban hip-hop groups is the internationally known Orishas, who started their careers in Cuba but eventually moved to France where they are currently based. Founded in 1999 by Yotuel Romero, Ruzzo Medina, Roldán González and Flaco-Pro (who left in 2002), the band produced four studio albums, a greatest hits compilation and received two Latin Grammys.
One of the things that sets Orishas' songs apart is their fusion of rapping with musical elements and samples of salsa, rumba, timba and other traditional Cuban music genres. This approach has allowed the group to have a crossover appeal among generations as well as cultures. The first and last concert I attended of this group was back in 2000 at the old Conga Room location on Wilshire Boulevardd near La Brea as part of their first U.S. tour. Another presentation at the same venue was supposed to have happened in 2005, but for some reason it was cancelled at the last minute. During the past 10 years the group has been on hiatus, but as luck will have it, they have reunited and are on a 10 U.S.-city tour that brought them to the Regent nightclub in downtown Los Angeles on Saturday, Sept. 3, to the delight of their many fans.
The evening began with several DJ sets followed by the Oakland-based, bilingual hip-hop duo Los Rakas made up of Panamanian-American cousins Raka Rich and Raka Dun. They put on an exciting, energetic and danceable set. Joined by a terrific drum player who added a layer of powerful percussion, they included several of their own songs as well others' like "Tu Pum Pum" by reggaetón pioneer El General and "El Taxi" written by Cuban artist Osmani Garcia.
Shortly after midnight Orishas took the stage, joined by a six-piece band that included drums, keyboards, bass and an awesome three-piece brass section. Their set of greatest hits began with "Atrevido" followed by "Represent" both from their debut album A Lo Cubano (2000). A fine version of the iconic Cuban song "Guantanamera" also made an appearance, as well as their patriotic song "A Lo Cubano" from their freshman recording.
The near-capacity crowd on the floor and the VIP mezzanine were treated to the nostalgic "537 C.U.B.A." with the outstanding vocals of Roldán who finally got a chance to finally shine due to a low level on amplification on his microphone during the early part of the concert. His voice is the anchoring element of Orishas, where the rapping of Yotuel and Ruzzo are layered to bring about this unique fusion of rap and Cuban music.
Ending their set was the politically relevant and daring for Cuba "El Kilo" from the 2005 album of the same name, which talks about corruption in the Castro government. This was followed by new single "Cuba Isla Bella," which was released early this year. The video of that last song debuted in June featuring an array of current Cuban and Cuban-American artists such as Buena Fe, Issac Delgado, Leoni Torres, Gente de Zona, Laritza Bacallao, Descemer Bueno and percussionist Pedrito Martinez.
Even though there was a gap of over 10 years since these pioneers of Cuban and Latin-American hip hop stepped onto the music stage of Los Angeles, their long-awaited return was welcomed by their fans at the Regent with loud applause and excitement.
Video Slider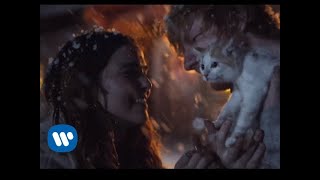 Win Tickets to See Ed Sheeran at the Rose Bowl
Ed Sheeran is back in Los Angeles, and your chance to see him perform is at the Rose Bowl in Pasadena on Saturday, Aug. 18. We are giving away complimentary tickets to the show. For a chance to enter to win, email us at
[email protected]
with "Ed Sheeran" in the subject line and tell us why you would like to go.