Review: Logic Provides Plenty of Firsts as His Everybody's Tour Stops at the Greek
Logic debuted some on-stage firsts at the Greek Theatre on July 10.
The rapper who goes by the name "Logic" isn't just a rapper. He's a positive message to youth and everybody else around the world. He explains that he lives by three words: "Peace, love and positivity," promoting happiness and pursuing your dreams through his music. Although he was born Sir Robert Bryson Hall II in Rockville, Md., grew up in a Section 8 household and was raised under very difficult circumstances, he continued to embrace this message to persevere and become the positive influence he is today.
His most recent release, Everybody, is a concept album based on a man who must live the lives of every kind of person on Earth in order to gain perspective and achieve enlightenment. Logic raps from the perspective of a single mother struggling to raise her child, a gay man trying to find acceptance in society and even someone going through depression, relating his album to almost Everybody.
That's why I feel the Everybody's Tour is a must-see for, well, everybody. He performs songs from his previous albums, Under Pressure and The Incredible True Story, as well as some songs from his latest mixtape, Bobby Tarantino. He brings along guests such as Big Lenbo (who opened the L.A. date along with Joey Bada$$), Damian Lamar Hudson (who is signed to Logic's record label), his wife Jessica Andrea and also John Lindahl (another artist signed to his label). His presence on stage is "Undeniable" (for all the Young Sinatra fans out there), and he often speaks to the audience straight from his heart to theirs.
During his second sold-out night at the Greek Theatre on July 10, 2017, Logic, for the first time, performed with a band behind him accompanying his close friend and DJ, Rhetorik. However, that wasn't the only surprise he had for Angelenos. He played a song on piano and sang for the first time in front of his fans, admitting he wishes to pursue other paths in music.
Logic, even though you already know this, isn't your average rapper. In the history of all rap shows ever, never has a rapper decided to play a game of "Mario Kart" on stage in front of thousands of people. He faced off against his friend who is also a YouTuber, "Dashie," and when Logic won, he cleverly led into his song "I Am the Greatest" from The Incredible True Story. I can see why his fans have such an addiction to him; he is a genuinely kind guy but also an intelligent person and creative genius.
If you're looking for a great time surrounded by cool people and good music, I'd highly recommend you go see a stop on Logic's Everybody's Tour.
Video Slider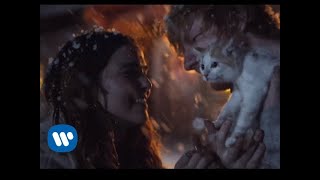 Win Tickets to See Ed Sheeran at the Rose Bowl
Ed Sheeran is back in Los Angeles, and your chance to see him perform is at the Rose Bowl in Pasadena on Saturday, Aug. 18. We are giving away complimentary tickets to the show. For a chance to enter to win, email us at
[email protected]
with "Ed Sheeran" in the subject line and tell us why you would like to go.