Review: Logan Lucky, the Welcome Return of Steven Soderbergh
Channing Tatum, Riley Keough and Adam Driver in Steven Soderbergh's Logan Lucky
When Steven Soderbergh retired several years ago from directing films, few people believed him. After all, the director who won an Oscar for Traffic and made millions for the Ocean's 11 series is still relatively young for his profession, and he still lined up television projects to keep himself busy. Logan Lucky proves all of those skeptical of Soderbergh right, and fortunately so. The film is a welcome return for one of America's most playful and innovative directors.
Logan Lucky does not have the audacity of Soderbergh's most famous films, like Sex, Lies, and Videotape, but it must be noted that the man's work is incredibly wide-ranging, shifting between crowd-pleasers like Erin Brockovich and nearly incomprehensible art films like Schizopolis. Logan Lucky might be a bit more peculiar than most of the mainstream releases this summer, but the movie is still Soderbergh doing a movie for the masses and focused on the type of people who have never seen an art-house movie and certainly never will. This is the flip side of Ocean's 11, a heist movie set in Appalachia featuring characters who would be turned away at every casino that the Clooney crew tried to rob.
Channing Tatum, who starred in Soderbergh's Magic Mike (only Soderbergh would make a movie about male strippers and make it a meditation on America after the Great Recession), stars in Logan Lucky as Jimmy Logan, a former small-town football star in rural West Virginia who barely scrapes by making a living as a miner. In the current political age, a West Virginia miner immediately conjures very strong associations, but Soderbergh largely shies away from those, even while immersing the film in the particulars of Appalachian culture. This is a movie where even the economically secure characters love NASCAR and put their children in beauty pageants, and to the people who have followed Soderbergh's art-house films, the culture will seem so foreign it might as well be set in Bhutan.
Jimmy Logan concocts a plan to rob the vault of a NASCAR race track, and to do so, he assembles a crew of oddballs that include his one-limbed brother Clyde (Adam Driver), his sister Mellie (Riley Keough), the incarcerated demolitions expert Joe Bang (Daniel Craig) and his family members (Jack Quaid, Brian Gleeson). The composition of the group has certain parallels to Soderbergh's earlier heists: a few big stars as the leads, a less-famous duo as the comic relief and the token girl in the boys' club.
But Logan's crew is smaller and far less suave than Danny Ocean's. Even Tatum and Craig, by far the biggest draws of the cast, are not quite in full movie-star mode here. Tatum has the slightly chunky physique appropriate to a former football star, while Craig adopts an outrageously over-the-top accent and peroxide hair. After glowering through his last few Bond outings, Craig seems invigorated by the role. Joe Bang might not be subtle, but Craig is quite clearly having the time of his life.
Working from a screenplay by Rebecca Blunt, who may or may not be a pseudonym for anyone from Soderbergh to his wife Jules Asner or even her former E! colleague John Henson, Logan Lucky deftly balances the complexities of the NASCAR heist while making the story completely easy to follow. Soderbergh and Blunt make every twist seem logical, and it is only in retrospect that the sheer complexity of the scheme comes into focus. This is a film that requires not only that a character break out of jail, but break back into one. Logan Lucky might not use the technological firepower of the Ocean crew, but it matches it in plot twists. The characters might not be quite as overtly clever, but their movie is.
Not everything in Logan Lucky works as smoothly as its plot twists. Seth MacFarlane, the one actual comic of the cast, seems out of place as a television personality who tangles with Logan's crew several times during the film. Much like the rest of the cast, MacFarlane seems to be going for a Coen brothers-type caricature, which considering the comic's sensibilities is like watching Schwarzenegger perform Sorkin. But mostly the cast is stacked with talent in even small roles, including Hilary Swank, Katherine Waterston, Sebastian Stan and Dwight Yoakum.
It is easy to see why actors like these would sign up for what are essentially cameos; like Craig, these stars appear to be glad just to be part of the fun. And what actor would not? It's Steven Soderbergh coming back to entertain the masses, and it's great to have him back.
———————————————————-
Logan Lucky
Bleecker Street Media, Fingerprint Releasing
In theaters Aug. 18
4 Stars
Films are rated on a scale of 5 stars (must-see), 4 stars (exceptional), 3 stars (solid), 2 stars (average) and 1 star (unworthy).
Video Slider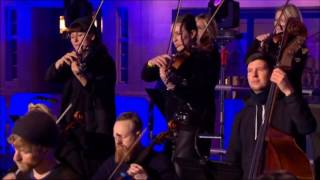 Win Tickets to See Pete Tong at Hollywood Bowl
Pete Tong is back in Los Angeles, and your chance to see him perform is at Hollywood Bowl on Thursday, Nov. 9. We are giving away complimentary tickets to the show. For a chance to enter to win, email us at
[email protected]
with "Pete Tong" in the subject line and tell us why you would like to go.