Review: The Only Living Boy in New York Fits in Nicely with Similar Stories of Sensitive Yet Aimless Young Men
Callum Turner and Kate Beckinsale in The Only Living Boy in New York
Even if the particular details of his life may be peculiar, Thomas Webb is a character with whom audiences will be very familiar: bright, sensitive, privileged and relatively directionless despite nearly limitless opportunities. It is a type that encompasses anywhere from the literary (Holden Caulfield of Catcher in the Rye) to cinema (Benjamin Braddock of The Graduate) down to at least one character in every trashy CW soap opera. The protagonist of The Only Living Boy in New York is pitched to be an east coast version of Benjamin Braddock, and in ways involving both plot and atmosphere, director Marc Webb intends his film to be a New York counterpart to the California-set Mike Nichols classic.
Callum Turner stars as Webb, the somewhat aimless son of a wealthy publisher (Pierce Brosnan) and his chain-smoking, depressive wife (Cynthia Nixon). He experiences a crisis when he learns that his father is having an affair with one of his editors (Kate Beckinsale) and confides in his new neighbor, a crusty alcoholic writer (a redundancy) played by Jeff Bridges in a role so clearly intended for the actor that it seems written directly for him. Webb begins following Beckinsale's character to learn why his father has decided to cheat with her, as if looking like Kate Beckinsale weren't sufficient, and then begins his own affair with the older woman as she continues her affair with his father.
The parallels between The Only Living Boy in New York and The Graduate thus become explicit with the affair, and the comparison does not end there. Any movie that takes its title from a Simon and Garfunkel song, whose songs are so integral to the Nichols film, knows exactly what it is doing. If this movie doesn't live up to the high standards that Dustin Hoffman's debut set, it is because achieving what that film did occurs once in a generation. Better to compare it to something like Zach Braff's once acclaimed but now unfairly maligned Garden State, another tale of a lost young man that uses Simon and Garfunkel for emotional cues. By that standard, Webb's movie doesn't pale in comparison to giants.
The Only Living Boy in New York is the type of film that is explicitly a writer's creation. Taken from an original script by Allan Loeb, who wrote movies as diverse as Collateral Beauty, The Dilemma and Wall Street: Money Never Sleeps, it relishes in the travails of being a writer while holding them up as romantic heroes. Of course Thomas Webb wants only to write but is dissuaded from it by his conservative father, and of course Jeff Bridges will inspire him to do it. As significantly, the movie relies on a major plot twist that alters the movie during its final act. This twist is more than a bit implausible, but it leads to more interesting character developments that suggest greater complexity than the movie can often handle.
The performances in The Only Living Boy in New York are all finely-tuned, if rarely unexpected. This is the type of role Jeff Bridges can do in his sleep, and while Beckinsale won't erase memories of Anne Bancroft's Mrs. Robinson, she gives the character a bit more heft than she deserves. Nixon gives the strongest performance in the film, even if the character is underused. The Sex and the City movies aside, Nixon is one of America's most consistently strong actresses and deserves a film vehicle worthy of her talents.
The Only Living Boy in New York fits in nicely with similar stories of sensitive yet aimless young men and works in that regard. It may not reach the heights of its obvious inspiration in The Graduate, but the film puts some interesting shadings on a durable character before the next depiction of a troubled soul scored to Simon and Garfunkel comes along.
———————————————————-
The Only Living Boy in New York
Roadside Attractions, Amazon Studios
In theaters Aug. 11
3 Stars
Films are rated on a scale of 5 stars (must-see), 4 stars (exceptional), 3 stars (solid), 2 stars (average) and 1 star (unworthy).
Video Slider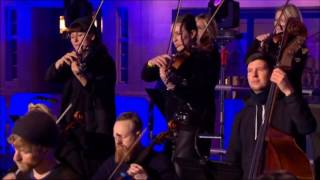 Win Tickets to See Pete Tong at Hollywood Bowl
Pete Tong is back in Los Angeles, and your chance to see him perform is at Hollywood Bowl on Thursday, Nov. 9. We are giving away complimentary tickets to the show. For a chance to enter to win, email us at
[email protected]
with "Pete Tong" in the subject line and tell us why you would like to go.