Review: Listen Up Philip Falls on Deaf Ears
Listen Up Philip is Alex Ross Perry's third feature film and his first to reach mainstream audiences. Set in modern day New York City, Listen Up Philip spends the entirety of it's screen time following the life of newly successful writer, Philip, and his subsequent emotional transformation. The primary focus is Philip's relationships with friends, lovers, acquaintances and, perhaps most prominently, the city itself. While Ross does his best to pull New York out of the bright light of Woody Allen's New York and into his dark and dingy shadow, he has trouble finding a successful balance between light and dark, instead leaning more toward arrogance and conceit.
Shot on 16 mm film and narrated by an anonymous, velvety voice with a quirky vocabulary, Philip is meant for a very specific audience versed in the culture and stylings of New York. The narration and film grain do a lot to provide a feel of old school intellectual NYC circles, which is an extremely common flourishes used in many student films and under the radar indies meant to imitate Allen's trademark style. This film use these techniques no differently than it's counterparts, serving only as a gimmick. Though visually pretty and sonically lush, the actual content of the story and the people personifying are so unlikable that it's hard to connect in a meaningful way other than to experience Philip's awfulness.
And to be fair, that's the point. This film is meant to serve as the antithesis to all the Allen proponents who pay homage through imitation and adulation. Ross wants to tell a different story, a far less appealing story than the standard, one that paints New York as a collection of cold corridors of isolation rather than vibrant monoliths of a grand metropolis. But nobody wants to hear that. Nobody wants to hear that New York isn't the greatest city in the world, that it isn't the center of the universe. So what does Ross do? He writes his bleak story on goldenrod pages. By using the cliche romance of New York City intellectualism that find so many other critics' attention, Ross is able to package his stink bomb in pretty wrapping paper.
While I respect his intention and admire the notion that NYC just aint all that, Ross couldn't quite sustain the films unlikability in a way that served fruitful or interesting beyond the simple idea of New York as less than glamorous. At two hours, I found the film overlong and self indulgent in its own hatred for itself. Philip is a terrible person who damages the positive influences around him in favor of more negativity. Though it sounds interesting, most of the negativity just isn't exciting. Philip befriends an older, successful New York literary on the downswing of his career who decides to take Philip under his wing as his protege. I found myself bored after 45 minutes when I realized the film had nowhere else to go other than to enjoy the sound of it's own self-loathing. This movie will be interesting to anyone in the city who ever dreamed to be a writer or to carve some kind of artistic identity into the city itself. But beyond that, Listen Up Philip is a dreary, slow and unexciting film that does little to learn from it's own maxims.
———————————————————-
Listen Up Philip
Sailor Bear Productions
Currently in theaters.
3 Stars
Films are rated on a scale of 5 stars (must-see), 4 stars (exceptional), 3 stars (solid), 2 stars (average) and 1 star (unworthy).
Video Slider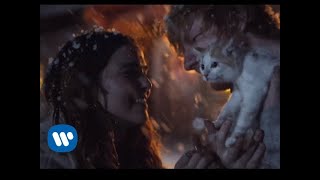 Win Tickets to See Ed Sheeran at the Rose Bowl
Ed Sheeran is back in Los Angeles, and your chance to see him perform is at the Rose Bowl in Pasadena on Saturday, Aug. 18. We are giving away complimentary tickets to the show. For a chance to enter to win, email us at
[email protected]
with "Ed Sheeran" in the subject line and tell us why you would like to go.