Review: Lila Downs Graces Pantages Theatre with Phenomenal Performance
From fashion and folklore to dazzling musicality and social discourse, a Lila Downs show has it all. (Ramon Aviles/LOL-LA)
Lila Downs graced the sold-out crowd at the Pantages Theatre in Hollywood with a phenomenal performance, showing yet again why she's one of Mexican music's greatest assets. The show was filled with folklore and art, which have become characteristics of her performances. Her fans, ever diverse and perceptive, were mainly young-to-older adults who have grown to love her music, and often wear accessories to Downs' shows in the style of her dresses and fashion.
The evening started off with the Mariachi Reyna de Los Angeles, who performed old traditional classics. Then Downs came on stage around 8:45 p.m., dressed in her usual traditional Mexican attire.
She opened her set with "Humito de Copal," a song which is very representative of her fusion style, to the roaring of the crowd. She then went on a discourse about recent plights Mexico has suffered, including women's rights and the tragedy with the 43 murdered students.
Downs followed with "La Burra," dedicated to Donald Trump for his recent racist and sexist remarks. Both of these opening songs were part of her new album, Balas y Chocolate.
The evening continued with popular tracks such as "Vámonos," "La Farsante," "Penas del Alma," "La Patria Madrina", "Misa Oaxaqueña," "Zapata Se Queda" and "La Raíz de Mi Tierra." These included traditional pieces in her style, as well as original compositions, many with profound social commentary.
Fans showed their appreciation not only with their warm applause, but also with flowers and other trinkets. Downs also made special mention of her band, which is comprised of musicians from several countries including Mexico, Chile, Venezuela and the United States. They in turn played a small solo as their names were announced.
Downs also has an impressive mariachi repertoire, and for the final section of the show, was joined on stage by the mariachi band which opened her show – a band, which is important to note, was comprised of all women.
After Downs had closed her set and said her farewells, the audience stayed put and refused to leave, all the while chanting for an encore. Downs indulged and brought out her band, along with the mariachi band, and performed "Cielo Rojo." As a bonus surprise, local comedian Don Cheto joined Downs on stage for a rap rendition of "La Cumbia del Mole."
Downs continues her tour across the country and returns to Southern California Oct. 25 at Segerstrom Center for the Arts in Costa Mesa. For tickets and more information, visit liladowns.com/us.
Edison Millan contributed to this story.
Video Slider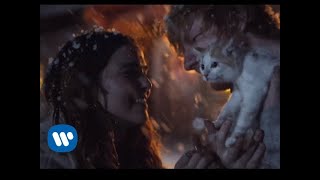 Win Tickets to See Ed Sheeran at the Rose Bowl
Ed Sheeran is back in Los Angeles, and your chance to see him perform is at the Rose Bowl in Pasadena on Saturday, Aug. 18. We are giving away complimentary tickets to the show. For a chance to enter to win, email us at
[email protected]
with "Ed Sheeran" in the subject line and tell us why you would like to go.