Review: Lady Macbeth Is All Attitude, No Atmosphere
Florence Pugh as Katherine in Lady Macbeth
At once a gothic chiller without the chills and windswept melodrama without the drama, the turgid new bodice-shredder Lady Macbeth fails on an elemental level to elevate its chosen genre, instead settling upon trivially gussying it up with minimalist flair and a club-fisted conception of thematic "darkness." Based largely on famed Nikolai Leskov's Lady Macbeth of the Mtsensk District, but equally indebted to Emily Brontë's Wuthering Heights and the Gothic works of Daphne Du Maurier, Lady MacBeth snags a familiar premise and takes off running left of center.
The story unfolds in rural England circa 1865, whereupon we find Katherine (Florence Pugh), a wide-eyed young woman who finds herself sold off like chattel into the stead of bipolar chauvinist Alexander (Paul Hilton). Together they live in prolonged unease in a grim, dilapidated manor house under the squinting, ever-observant eye of Alexander's father Boris (Christopher Fairbank). Put-upon and abused, we watch as Katherine's innocence is briskly sapped away through a quick succession of dour scenes in which timid chambermaid Anna (Naomi Ackie) plays the role of the girl's tormenter by proxy, roughly brushing her hair and strapping in her bodice to please the gaze of the masters.
Eventually Alexander is called away in business, giving Katherine a welcome, if brief, respite from her torment. After intervening in a barnyard dispute, she comes into the orbit of Sebastian (Cosmo Jarvis), a wild, swarthy farmhand who makes his intentions perfectly clear from the outset. Before long, the two fall into bed then passionately into love in dizzyingly short order. Of course, Katherine's girlish obsession with the strapping hunk soon pushes her into conflict with a snarling Boris, outraged that she would deign to disrespect his son. Unearthing her devious side, Katherine makes the snap decision to poison Boris with wild mushrooms and install Sebastian as the man of the house. But when Alexander returns, the two are faced with a dilemma that can only be solved via one means: bloodshed.
One of Lady MacBeth's more favorable reviews compared the film's suspenseful progression to Hitchcock, but the cut of its jib is far more jarring and black-hearted – something akin to the morally ambivalent works of Lars von Trier or Michael Haneke. Katherine backslides precipitously and without much foreshadowing into truly wicked villainy, and her motivation is too carnal for an audience to feel much in the way of empathy for her. Similarly, Sebastian is rendered little more than a blunt-force sex object, more an excuse for Katherine's crimes than a fully fleshed-out human being. By the time the couple find themselves grappling with how to "handle" a young child who ends up in their care, they became, at least to this reviewer, repugnant to the point of obnoxiousness.
In the end, Lady MacBeth attempts to give an indie makeover to the stuff of stuffy chamber-pieces with middling results at best. The direction under William Oldroyd never manages to rise above shallow semiotics, though cinematographer Ari Wegner does manage to deliver some truly striking visuals. Nevertheless, the true weak point is Alice Birch's scant screenplay, which chooses to linger on gristly, mean-spirited minutia, rather then spending time on the important business of developing characters and their relationships. In addition, without wading into spoilers, the film's nihilistic ending registers more as a shrugged "meh" than a primal scream. Overall, if seeking a Gothic romance that's not afraid to be itself, one might do better to seek out Roger Michell's recent excellent My Cousin Rachel, than to subject themselves to the sadistic whims of Lady MacBeth.
———————————————————-
Lady Macbeth
Roadside Attractions
Now in select theaters
2 Stars
Films are rated on a scale of 5 stars (must-see), 4 stars (exceptional), 3 stars (solid), 2 stars (average) and 1 star (unworthy).
Video Slider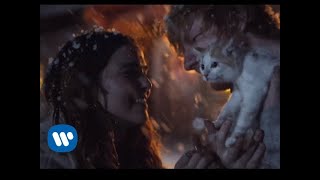 Win Tickets to See Ed Sheeran at the Rose Bowl
Ed Sheeran is back in Los Angeles, and your chance to see him perform is at the Rose Bowl in Pasadena on Saturday, Aug. 18. We are giving away complimentary tickets to the show. For a chance to enter to win, email us at
[email protected]
with "Ed Sheeran" in the subject line and tell us why you would like to go.