Review: LA Opera's Carmen Presents Stellar Cast on a Not-So-Spanish Set
Ana Maria Martinez as Carmen
The Los Angeles Opera opened its 2017-2018 season at the Dorothy Chandler Pavilion on Saturday, Sept. 9, with the very popular opera Carmen, which is set in Seville, Spain, located in the country's southwest autonomous community of Andalusia, about 150 miles from the Strait of Gibraltar, which separates Europe from Africa as well as the Atlantic Ocean from the Mediterranean Sea. If any city conjures up images of what we stereotypically think is "Spanish," then Seville takes that place with its Moorish architecture and conquest that lasted 800 years.
The last time I saw this particular production at LA Opera was in 2008, starring Venezuelan-Canarian mezzo-soprano Nancy Fabiola Herrera as the impetuous, some say early feminist, gypsy Carmen. Although this role is associated with famous mezzos, it was originally written by French composer Georges Bizet and offered to Marie Roze, a famous soprano of the time, who then refused the role because she had to die at the end. It was subsequently given to mezzo-soprano Célestine Galli-Marié who premiered it at the Opéra-Comique in Paris on March 3, 1875.
For this production, the role of Carmen harks back to its origins with the voice and artistry of Cuban-Puerto Rican soprano Ana Maria Martinez who has made it into one of her signature roles in the past several years, starting at Houston Grand Opera in 2014. Her Latin-American roots serve Martinez well in the show-stopping aria "Habanera," which marks her entrance in the early part of the first act. Her sensuous hip and body movements, along with her sultry voice from the lower soprano range gives her portrayal a genuine Spanish flavor.
That is more than I can say for the village set design that opens the production that while architecturally convincing in its perspective, lacks in vibrancy with beige and washed out colors that fail to give cultural and location context. Ironically the set design comes from a production from the Teatro Real de Madrid based in the capital city of Spain.
As the low-ranking soldier Don José who sparks Carmen's interest, tenor Riccardo Massi possesses a powerful voice with beautiful tone and texture, even though in the first act he seems a bit restrained in his acting. His character is a bit of a mama's boy, constrained by the era's morals, which includes being betrothed to a village maiden, Micaëla, from his birth town, played admirably by the young and upcoming soprano Amanda Woodbury. She has come to Seville carrying a letter and a kiss from Don Don José's mother back home, and together they sing the beautiful aria "Parle-moi de ma mère!" with great vocal chemistry, especially on Woodbury's part, as she inhabits the role with authenticity, sweetness and a crystalline voice.
Towards the end of the first act, all hell breaks loose as Carmen is accused of stabbing one of the other cigarette girls and is brought before Lieutenant Zuniga, played with great command and a thunderous voice by veteran bass Philip Cokorinos, who also has a knack for comedic timing and portraying a great drunk later in the opera. Don José is asked to tie Carmen's hands and to keep an eye on her as Zuniga leaves.
This subsequently drives the sexual heat between the leads into overdrive when Carmen sings one of the most famous arias of the opera, "Seguidilla: Près des remparts de Séville," as she tries to convince him to let her loose in order to escape at an opportune moment. Here, Martinez pulls out all the stops in the seduction department with wonderful hip swaying as her rich and sensuous voice wraps around the audience and her victim. Needless to say, she gets what she wants, and Don José is thrown in jail for dereliction of duty.
The second act takes us to Lillas Pastia's Inn, which by the look of the set is located in some sort of monumental Moorish ruins all awash in gray tones, a bit over the top. Here we find Carmen entertaining Zuniga and other soldiers as we subsequently meet the famous toreador Escamilo, played with great panache by bass Alexander Vinogradov, singing probably the most famous tune of the opera "Toreador Song: Votre toast, je peux vous le rendre." He sets his eye on Carmen, but she refutes his advances as she waits for the arrival of Don José who has been set free after several months in jail. He arrives, but she is soon disappointed with his lack of spine when he chooses to return to his barracks at the sound of the bugle, but not before he pours his heart out in the gorgeous aria "La fleur que tu m'avais jetée" where Massi achieves not just a tender and flawless vocal performance, but shows that he is capable of great acting as well.
Rounding out the outstanding cast are soprano Liv Redpath (Frasquita) and mezzo-soprano Kelley O'Connor (Mercédès), who I actually reviewed last month as Carmen in a concert version of the opera at a fundraiser held at Zipper Hall for the nonprofit Opera Buffs. Their duet with Carmen, "Mêlons! – Coupons!" (aka the card scene) is funny, charming and perfectly executed. Just as exemplary are the voices of baritones Juan Carlos Heredia (Moralès) and Theo Hoffman (Le Dancaïre) along with tenor Brian Michael Moore (Le Remendado), all promising young singers from the Domingo-Colburn-Stein Young Artist program at Los Angeles Opera.
The outstanding LA Opera orchestra, under the direction of maestro James Conlon, is in perfect form, tone and detail as are the incredible choruses who fill the Dorothy Chandler Pavilion with the power and beauty of the human voice as a collective. Special kudos to the Los Angeles Children's chorus who steal a lot of the limelight with their wonderful voices and adorable performances thanks to the imaginative direction of Ron Daniels who had the hard task to make this old opera war horse production look fresh.
Carmen runs through Oct. 1. For more information, visit laopera.org.
Video Slider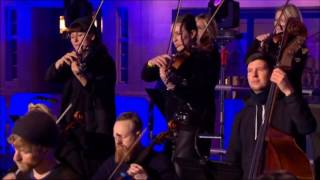 Win Tickets to See Pete Tong at Hollywood Bowl
Pete Tong is back in Los Angeles, and your chance to see him perform is at Hollywood Bowl on Thursday, Nov. 9. We are giving away complimentary tickets to the show. For a chance to enter to win, email us at
[email protected]
with "Pete Tong" in the subject line and tell us why you would like to go.