Review: Kong: Skull Island Is a Refreshing Delight
Tian King, Brie Larson, Tom Hiddleston and Thomas Mann in Kong: Skull Island
One would easily be forgiven for believing that the last thing the world needs is yet another King Kong movie, especially since the Peter Jackson movie released a decade ago was so overstuffed that it was practically 10 different Kong movies all in one. Even if Kong: Skull Island is not a movie that people have been craving, particularly in comparison to Jackson's retelling of the 1933 classic that acted as his follow-up to The Lord of the Rings trilogy, Hollywood's fourth trip to Skull Island is a refreshing delight. It returns the story of King Kong to its B-movie roots while still enlisting A-list talent and production values, making it feel like a pure delight instead of a monumental slog. Kong may be bigger than ever in this movie, but the movie itself is leaner and more effective for it.
Kong: Skull Island takes the story of Kong out of its Depression Era beginning and places it into another troubled period of recent American history, the end of the Vietnam War. Based on the mad theories of a scientist (John Goodman), the government sends a military force of soldiers ending their term in Vietnam to explore Skull Island, one of the few unexplored places on Earth. The military also enlists a British tracker (Tom Hiddleston, best known as a villain to both Thor and Taylor Swift) as well as a war photographer (last year's Best Actress winner, Brie Larson) to be part of the mission. There, the team finds the legendary giant ape, as well as a host of other monsters that are even more dangerous than Kong.
The encounter with Kong provides everything that one would expect, but where Kong: Skull Island really excels is in the characters apart from the big ape. The film abandons the traditional Kong story involving a film crew and a blonde actress for a military mission that feels inspired more by Apocalypse Now than anything else.
Hiddleston and Larson do their best as the action-hero leads, and even if the roles are below their talents as performers, it is the first time either has had to play a mainstream movie star, which requires a different skill set. Goodman and Samuel L. Jackson chew the scenery admirably in the type of roles both men have perfected over the past few decades, and Toby Kebbell, generally the best thing about some of Hollywood's most dismal blockbusters, finally gets a decent part in a good one.
Best of all is John C. Reilly, who gives a deeply strange yet hilarious performance as a World War II pilot who has been stuck on Skull Island for nearly 30years. Reilly both helps deflate the inherent silliness of the story about an ape the size of a skyscraper through his expert clowning and then gives the story some unexpected heft during its conclusion. So much of Kong: Skull Island is a high-quality mash-up of disparate elements that work unexpectedly well together, but Reilly's madman is a complete original, and Reilly has rarely been so good in his mainstream movies. This is the type of adventuresome John C. Reilly performance he would usually give in a film made for this movie's catering budget.
Kong: Skull Island is the rare action movie which is more memorable for its characters than its action sequences, although director Jordan Vogt-Roberts nonetheless stages them with enough flair that they don't seem like they're repeating what other directors have done before. It finally frees the story of King Kong from the traditions of its status as a foundational action classic and makes it into the quick and dirty B-movie it was always meant to be.
———————————————————-
Kong: Skull Island
Warner Bros.
In theaters March 10
4 Stars
Films are rated on a scale of 5 stars (must-see), 4 stars (exceptional), 3 stars (solid), 2 stars (average) and 1 star (unworthy).
Video Slider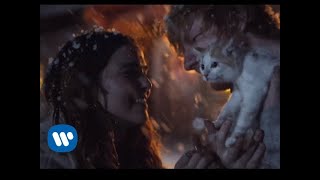 Win Tickets to See Ed Sheeran at the Rose Bowl
Ed Sheeran is back in Los Angeles, and your chance to see him perform is at the Rose Bowl in Pasadena on Saturday, Aug. 18. We are giving away complimentary tickets to the show. For a chance to enter to win, email us at
[email protected]
with "Ed Sheeran" in the subject line and tell us why you would like to go.