Review: Kaaboo 2015: The Good, The Bad and The Weird
AWOLNATION was a real head-turner on Saturday afternoon at the debut of Kaaboo. (Patrick Meissner/LOL-LA)
Well, Kaaboo 2015 has come and gone, and man was it fun. An impressive festival, and the first of its kind – it will be interesting to see how this event develops over the years. There's so much to talk about, though, especially this being year one and all, so let's break it down like this: Here's Kaaboo 2015 in a nutshell, the good, the bad and the weird …
The Good
We'll start with an aspect of planning that was rather brilliant on Kaaboo's part. They relegated all electronic acts to the indoor Encore stage and scheduled all of them late, after the headliner, running until sometime after 2 a.m. It was a brilliant move, because it separated the people who wanted to bring their families during the day to see acts like Bonnie Raitt from the people who wanted to show up a bit later and party. Plus, it kept the show going that much longer, and the pace of going from bands all day to electro all night was magnificent. Let's just get some better acts in next year. Girl Talk? Really? Six years ago, maybe, but nowadays? C'mon.
Musically, Kaaboo had a lot of really great performances. No Doubt lit it up on Friday night to a very enthusiastic crowd. The whole band was right there during the whole set with an intensity that never let down. Zac Brown Band was impressive and fun all at the same time. You don't have to be into country music to be able to appreciate the talent there. The Killers were an excellent closer, and they sound flawless live.
On the smaller stages, AWOLNATION was a real head-turner. Their sound is so clean, and their show is heavy, but it lacks the kind of forward intensity that one would normally associate with metal. There's something so accessible about it. Michael Franti was the fun, heart-warming performance of the weekend. A lot of crowd interaction, and Franti, at one point, hopped the barricades and the took the show into the audience, where he stood on a box, got mobbed by the crowd and sang through it. Slightly Stoopid was fun to watch because everyone goes bananas for them in San Diego, them being hometown heroes and all.
Del Mar Fairgrounds is an excellent place to host a festival. With amazing views, a sea breeze, actual infrastructure that can be used, rather than having to import everything from food stands to bathrooms. In addition to the amazing surroundings that the fairgrounds alone provide, Kaaboo was excellently adorned with live art, as well as existing installations. They even made the effort to cover the ground at the Sunset Cliffs stage with beach sand, so that people wouldn't be standing on dusty dirt. Just a real classy move, at what is apparently a real classy festival.
The Bad
Probably the worst thing to happen all weekend was Snoop Dogg performing "California Gurls." It was midway through the set, right after "Gin and Juice," and it was just awkward. Mr. Dogg is most likely obliged to include the song in his set, seeing as he has a part in it, but no one in the crowd was amused. Who goes to a Snoop show to hear Katy Perry? In Snoop's defense, he played if off well. He played with the song in the chorus, and accidentally caught himself singing a few times. He clearly understands how goofy the situation is, but just laughs it off anyways and says, "F**k it."
311 was also really bad. It's a wonder as to why these guys are still a band. Seriously, they've been around for 25 years now. Their catalogue is old and unimpressive, their show is generic and worn down. It's always the same songs, the same pace, they wear the same freaking outfits in every show they perform, and they still do this lame drum section in the middle of the set that's never really impressed anyone in the first place.
There needs to be more local craft beer! Not just in the bourgeois food court, but all over the festival! San Diego has over a hundred breweries to source beer from, and Kaaboo featured Coors Light, Angry Orchard and (sorry I'm gagging) Heineken. If Petco Park can source almost all of its beer locally, so can Kaaboo.
The Weird
Gwen Stefani's demeanor was a bit weird on Friday night. Don't get me wrong, No Doubt crushed it, but we're all watching another post-breakup Stefani, and it's relatable, and sad, and funny and strange all at the same time. She works it into the set, which is unavoidable now, because almost every song in their catalogue is now relevant again.
Out of the six or seven acts that performed on the Encore stage, at least four of them featured saxophone as a prominent instrument in the performance. You come in expecting DJs, and almost all of them are doing this cross between Jam Master Jay and Bleeding Gums Murphy. It was just weird.
The shade structures over the beer gardens at the Sunset Cliffs stage were clearly Do LaB rip-offs. They can get away with it in Del Mar, because Kaaboo kinda caters to yuppies and most of them don't know about the Do. But really, though, these things are like the difference between generic brand cola and Coca-Cola Classic, and they need to go. Kaaboo should find its own sense of style, rather than try to steal things like shade structures or even their log font from Coachella.
Speaking of weird infrastructure, Harrah's Casino set up an actual pool at the back of the Sunset Cliffs stage, complete with a beach volleyball court. It was an exclusive VIP section made to resemble a Vegas pool party at a festival. It's a good idea, really, it is. They probably made some money on it, too. The thing was just weird, though.
The Surprising
Counting Crows' opening number was freaking incredible. Like, jaw-dropping incredible. The rest of the set was, whatever … but they opened up with "Round Here." It's interesting what they've done with the song, they've slowed it down, and Adam Duritz's cadence is far more conversational, almost like slam poetry. The song was always written that way, which is why this live version feels so natural and mature. Musically, it was crisp, David Bryson is fire with that gentle guitar line these days. From a vocal perspective, Duritz was spot on. It was the performance of someone who, over the years, has only now come to fully understand the significance of something he, himself, wrote long ago … or maybe we're just reading into this too much. Either way, it was mind blowing sitting down, expecting a half-assed rendition of "Mr. Jones," and then being greeted by that.
Video Slider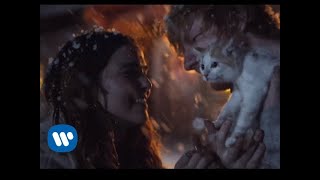 Win Tickets to See Ed Sheeran at the Rose Bowl
Ed Sheeran is back in Los Angeles, and your chance to see him perform is at the Rose Bowl in Pasadena on Saturday, Aug. 18. We are giving away complimentary tickets to the show. For a chance to enter to win, email us at
[email protected]
with "Ed Sheeran" in the subject line and tell us why you would like to go.