Review: Juan de Marcos Gonzalez Brings a New Generation of The Afro-Cuban All Stars to The Soraya
Juan de Marcos Gonzalez (Courtesy photo)
I was very fortunate to see live in the late 1990's and early 2000's all of the old, some now gone, master musicians and singers which made up the now retired Cuban ensemble Buena Vista Social Club (BVSC)! The first time was at the old Conga Room location on Wilshire Blvd. near La Brea Blvd., later at UCLA, The Hollywood Bowl and other local venues. Most people associate the BVSC with American guitarist and producer Ry Cooder, but it was master Cuban musician, composer and band leader Juan de Marcos Gonzalez who brought all these pre-Castro music stars together in 1996 as The Afro-Cuban All Stars, a year before Cooder visited Cuba and by chance stumbled into creating the BVSC phenomenon.
On Friday, January 19 at the Valley Performing Arts Center, now re-named The Soraya, a new generation of The Afro-Cuban All Stars made its debut at this gorgeous venue that is part of the California State University Northridge campus.
First on the program was Cuban piano virtuoso and composer Harold López-Nussa with his trio, made up of his younger brother Ruy López-Nussa (drums & percussion) who are part of a musical dynasty in Cuba, and the young bass player Gaston Joya, who was also born in the island. Using a mix of jazz, Afro-Cuban rhythms and classical music influences, the set began with a wonderful mix of three pieces which included the famous "Peanut Vender/El Manisero", the first Cuban popular song that made it big in the United States back in 1930 when it was recorded by Don Azpiazú and his Havana Casino Orchestra in New York for Victor Records. This was followed by a composition written by Harold López-Nussa, about a little Fiat car he owns in Cuba where they are known as a "Polski", a piece that started with slow percussion but built up to a more familiar Afro-Cuban timing, maybe harking to starting up a car and heading out to the streets in Havana.
One of the most interesting aspects about the trio's set was the amount of time each musician was given to shine on their own merit. Joya's solos were exciting in his use of the bass as almost as a violin in addition to using the body of the instrument as another percussion instrument, while Ruy López-Nussa had some lighting speed drumming segments.
To end the set, a gorgeous, melancholy, introspective piano piece was performed by Harold López-Nussa as a tribute to his recently passed mother and his beloved grandmother who according to him was very ill. This segued into an outstanding rendition of a composition by the late Ernesto Lecuona who was known as "The Cuban Gershwin".
After intermission the 13-piece Afro-Cuban All Stars took the stage under the direction of maestro Juan de Marcos Gonzalez sporting his signature black beret over long, gray tinged dreads. Even though most of the old timers who established this iconic Cuban music group have passed, a new, vibrant set of mostly young musicians have taken the helm, including his wife Gliceria Abreu (percussion) and two of his daughters, Gliceria (vibraphone & keyboards) and Laura Lydia (clarinets).
The set began with a piece driven by Afro-Cuban rhythms and percussion as an ode to the Abakua men's initiatory fraternity (or secret society) that was established in the mid 1880's by the African slaves that were shipped to Cuba. Since its inception The Afro-Cuban All Stars has concentrated on promoting the traditional Cuban music styles such as the son, guaracha, cha cha cha and others from pre-Castro Cuba, but in the program there was room for some new material and even modern versions of classics. The updated, big band rendition of "Lagrimas Negras" by the late, iconic Cuban musician and composer Miguel Matamoros had an out of this world clarinet solo by Laura Lydia while "Cangrejo Fue a Estudiar" by the late, master tres (music instrument) player Arsenio Rodriguez had Juan de Marcos picking up this traditional, creole instrument to lead the orchestra in a spirited tribute.
One of the most popular songs from the Buena Vista Social Club recordings is "Chan Chan", originally sung by the late Cuban singer, musician Compay Segundo was one of the highlights of the evening as well as a couple of boleros Juan de Marcos dedicated to his wife Gliceria as they both danced close on stage, which included the classic "Vete de mí" by Argentine composers Homero & Virgilio Expósito.
To close a magical evening, the band and maestro de Marcos gifted the enthusiastic, capacity filled audience several energy filled numbers such as "Sonero" and "Maria Caracoles", the later from their 1996 debut recording "A Toda Cuba Le Gusta" which had practically the entire theatre on their feet, dancing in the aisles. Needless to say, everybody loved it!
Video Slider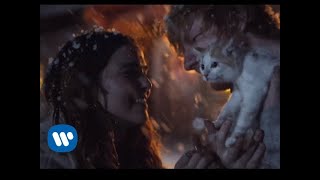 Win Tickets to See Ed Sheeran at the Rose Bowl
Ed Sheeran is back in Los Angeles, and your chance to see him perform is at the Rose Bowl in Pasadena on Saturday, Aug. 18. We are giving away complimentary tickets to the show. For a chance to enter to win, email us at
[email protected]
with "Ed Sheeran" in the subject line and tell us why you would like to go.