Review: John Mayer Leads the Forum on a Journey Through Genres
John Mayer wowed the Forum with his guitar, vocal and rap (!) skills.
John Mayer's first words to the capacity crowd assembled at the Forum last night were: "Los Angeles, Calif., welcome to The Search for Everything. I'm your tour guide, John." And with that, the singer-songwriter and guitarist kicked off a two-hour odyssey through a myriad of musical genres that have shaped his career, as well as a completely new for the artist to perform in public, rap.
Before divulging the details of Mayer's rap debut (and immediate self-imposed retirement), all the stops on The Search for Everything Tour, which is in support of his latest album of the same name, have the format of being separated into distinct chapters.
The evening began with Mayer surrounded by a full band, and what a band they were. Anchored by drummer Steve Jordan and bassist Pino Palladino, who are both members of the John Mayer Trio, the band – that also includes guitarists Isaiah Sharkey and David Ryan Harris, keyboardist Larry Goldings and vocalists Tiffany Palmer and Carlos Ricketts – launched into "Helpless" from the new album to get the crowd up and dancing.
Mayer dipped way back to his first album, 2001's Room for Squares, with "Why Georgia" and its low-key acoustic intro that slowly came to incorporate the band. These first few songs displayed the side of Mayer that most know best, the pop musician. While "I Don't Tryst Myself (With Loving You)," off 2006's Continuum, continued in that vein, the song exposes a bit of his funkier, R&B-flavored tendencies. Los Angeles-based guitarist Harris added a bit of his own vocal flavor to the sultry song as well.
The screen behind the band displayed a gorgeous nighttime view of Downtown's skyline full of twinkling lights, which served as the perfect backdrop for Mayer's words about the next song, the country-esque "Who Says," from 2009's Battle Studies. "This song's about New York, but I wrote parts of it in Pacific Palisades and Santa Monica, and put it together in Hidden Hills," he shared. This was followed by a stellar solo by Sharkey and the funky jazz of newer track "Moving On and Getting Over," which brought the first chapter of the night to a close.
As the crew wheeled out a small footbridge, serene images of Japanese cherry blossoms floating through the air showed up on the screen to usher in the Acoustic chapter. Mayer returned to the stage alone, save for his acoustic guitar, and broke into another new song, "Emoji of a Wave," showing that his vocals are as a clear and strong as ever.
He strapped on his harmonica for a great cover of Beyoncé's "XO" before giving all of his guitar-aficionado fans pleasure with his fingerpicking skills during another of his first hits, "Neon." This acoustic section seemed far too short, only consisting of three songs, because before we knew it, a short film clip was being shown as an introduction to the John Mayer Trio's portion of the evening.
The Trio chapter was by far my favorite segment of the night, though, as Jordan and Palladino really got to show their chops, and Mayer seemed to enjoy himself the most when they exploded into "Vultures." The three followed with two classic covers, the Jimi Hendrix Experiences's "Wait Until Tomorrow" and Robert Johnson's "Cross Road Blues."
Next came the full band's reprise and the moment that most attendees were still buzzing about as they walked to their cars after the show. The musicians began their second set with the first track off The Search for Everything, "Still Feel Like Your Man," which transitioned into Post Malone's "Congratulations" as the rapper/singer came onto the stage armed with a guitar, and L.A. legend Tommy Lee jumped behind the drum kit. Mayer didn't hesitate to put his rhyming skills on display, spitting out some lines that ended with, "Eight Grammys, put them on the floor!"
As Mayer declared he was indeed making his debut and subsequent announcement of retirement from rap in the span of 10 minutes, the band flowed into "Rosie." He continued to blend more musical styles into the set with "If I Ever Get Around to Living" from his folk and country-rock driven Born and Raised album (2012), which included spotlighting Sharkey's talent on the guitar and a brief snippet of Tears for Fears' "Everybody Wants to Rule the World."
Harris once again blew the arena away with his stunning vocals while performing a bit of Prince's "The Beautiful Ones" as an intro to "Slow Dancing in a Burning Room." After reflecting for a while on his first girlfriend, who inspired the next song, Mayer brought the main portion of the concert to a close with the country-folk of "Dear Marie," off 2013's Paradise Valley.
The band came back to the stage for an encore that began with the hand clap inducing "In the Blood." Then came the grand finale, "Gravity," which had the entire Forum on their feet. Mayer couldn't resist infusing yet another genre into the night for a final time by mixing a bit of classic soul into "Gravity" with an interpolation of Otis Redding's "I've Got Dreams to Remember."
Video Slider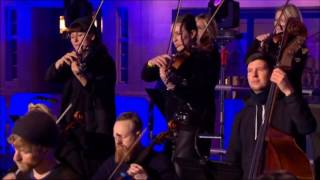 Win Tickets to See Pete Tong at Hollywood Bowl
Pete Tong is back in Los Angeles, and your chance to see him perform is at Hollywood Bowl on Thursday, Nov. 9. We are giving away complimentary tickets to the show. For a chance to enter to win, email us at
[email protected]
with "Pete Tong" in the subject line and tell us why you would like to go.