Review: Jeff Lynne's ELO Takes Over Hollywood Bowl with a Bang
Jeff Lynne's ELO with the Hollywood Bowl Orchestra, conducted by Thomas Wilkins (Craig T. Mathew/Mathew Imaging)
Jeff Lynne's Electric Light Orchestra took over the Hollywood Bowl stage for three special nights this past weekend. Night three was on Sept. 11, and the amphitheater was packed to the brim with fans wearing Jeff Lynne T-shirts. The Hollywood Bowl Orchestra, conducted by Thomas Wilkins, opened up the night starting with the National Anthem and a few touching words in remembrance of 9/11. If you looked around at this moment, not one single person was sitting for the anthem.
The orchestra played for a little over 30 minutes opening up for Jeff Lynne's ELO. A brief intermission followed shortly after. As I walked around the Bowl, I could hear excited fans sharing their favorite ELO concerts with each other. Some had never seen Jeff Lynne perform before, and you could tell how excited they were to change that.
At around 8:30 p.m. the orchestra returned to the stage as a light beamed down on them and a projection of stars speeding by played above their heads. All of a sudden the infamous ELO spaceship appeared on the screen, and a beam of light shot down on Jeff Lynne as if aliens had just returned him to us. You know that rare moment when you hear a song and chills course through your body followed by goosebumps? That's exactly what happened to me when Lynne and the band opened up with "Tightrope."
Following "Tightrope" came "Evil Woman," and the entire Hollywood Bowl was singing along – but not when Jeff Lynne sang. I learned last night that you don't sing over Jeff Lynne. It amazed me how much love the world has for ELO, even J.J. Abrams and David Spade were spotted in the crowd singing along.
The night was filled with Jeff Lynne singing hit after hit. He even played some of his new stuff like "When I Was a Boy," which still sounds like the old stuff. Other great songs they played throughout the evening consisted of "All Over the World," "Can't Get You Out of My Head" and "Turn to Stone." It still blows my mind how flawless Jeff Lynne sounded after playing three days in a row. Not to mention he also sounds exactly as he did when the band first started.
The moment finally came in the night as they narrowed down to the last song, my personal favorite, "Mr. Blue Sky." At this point everybody was on their feet swaying and dancing to the song. I broke the cardinal rule of "don't sing over Jeff Lynne," but I really didn't care at this time. How can you not sing along to "Mr. Blue Sky?" Once the song came to an end and the long-awaited firework show still hadn't happened, Lynne got back on the microphone and said something along the lines of, "You know how this works," and the band left the stage.
The band returned about two minutes later, which I find odd. It's almost as if at this point in being such a huge band they just feel the need to create an encore. The encore song, which as they have done many a times in the past, was "Roll Over Beethoven." The song started with Beethoven's infamous 5th Symphony, which kicked off the incredible firework show. There was one misfire that shot off in the direction of the entrance, but other than that, it was an amazing show of nonstop fireworks. All in all I must say that this concert is one of the top live performances I've ever seen, almost comparable to Devo at the Wiltern a couple years back.
Video Slider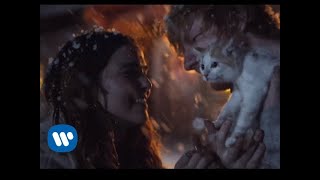 Win Tickets to See Ed Sheeran at the Rose Bowl
Ed Sheeran is back in Los Angeles, and your chance to see him perform is at the Rose Bowl in Pasadena on Saturday, Aug. 18. We are giving away complimentary tickets to the show. For a chance to enter to win, email us at
[email protected]
with "Ed Sheeran" in the subject line and tell us why you would like to go.