Review: Jack Johnson Brings Joy to the Hollywood Bowl
Jack Johnson's easy-going, friendly and carefree personality shows through his music.
The Hollywood Bowl welcomed singer-songwriter Jack Johnson to the stage on July 16, 2017. The stadium cheered with enthusiasm as he made his way towards the center of the stage. As he opened up his Summer Tour with one of his biggest hits, "Sitting, Waiting, Wishing," from his album In Between Dreams, fans of all ages screamed with excitement on this perfect summer night. This classic carefree and happy tune by Johnson is so recognizable that even after the release of the song back in 2005, it is still one of his most beloved tracks.
Transitioning from his opening song, he paused for a few minutes to introduce his fellow band members; Adam, Zach and Merlo. Johnson even included an intimate speech about his good friend Ben Beverly, who passed away back in March of this year. Beverly and Johnson worked closely together so much that Johnson paid tribute to his dear friend by dedicating a few songs in his memory.
There truly isn't enough words to express the joy that filled the air tonight. I don't know if it was the food, booze or soothing music by Johnson, but there was truly something magical about his performance. Johnson interacted with the crowd and shared personal stories, both funny and sad, with his fans.
"Johnson is like the best friend I never had," said a fellow concert-goer that had been to many Jack Johnson concerts in the past. "He's sweet, kind hearted and cares about his fans."
Those that attended the event would most likely agree with her statement. Johnson has this easy-going, friendly and carefree personality, which he shows through his music.
The night was still young, as he introduced one of his songs from his new album, All The Light Above It Too, which will be available Sept. 8, 2017, through Brushfire Records. The song, "My Mind Is for Sale," was a huge sensation and kept the crowd hungry for more.
Some of the concert's other highlights included an acoustic cover song by Sublime, "Badfish," which had everyone dancing in their seats. It also included memorable moments like the duet between Johnson and his band member, Zach. He even incorporated a sweet dedication to his father with the song "Constellations," another hit from In Between Dreams. Certainly, people can't forget the fun sing-along to "I Got You." Johnson even went as far as asking the crowd to join him in whistling the introduction, insisting he wasn't a good whistler and needed all the help he could get!
Video Slider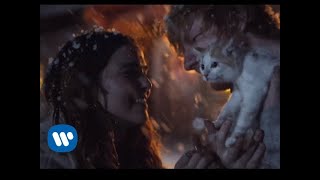 Win Tickets to See Ed Sheeran at the Rose Bowl
Ed Sheeran is back in Los Angeles, and your chance to see him perform is at the Rose Bowl in Pasadena on Saturday, Aug. 18. We are giving away complimentary tickets to the show. For a chance to enter to win, email us at
[email protected]
with "Ed Sheeran" in the subject line and tell us why you would like to go.