Review: Incubus Looks Back on 25-Plus Years of Music as the 8 Tour Visits Hollywood Bowl
Jose Pasillas, Ben Kenney, Brandon Boyd, Chris Kilmore and Mike Einziger of Incubus (Brantley Gutierrez)
If you're an Angeleno, you probably have at least one memory of visiting the Hollywood Bowl on a summer night. Guitarist Mike Einziger shared his own fond recollections of the Bowl as he and his Incubus band mates performed at the famed venue last night.
"We used to come see fireworks here on the Fourth of July. Thanks, Mom," he exclaimed.
The entire evening was touched with a bit of nostalgia since the L.A. rockers are currently on tour in support of their eighth studio album, aptly titled 8, and played tracks from almost all of their releases. The sold-out show began with Nashville's Judah & the Lion and special guests Jimmy Eat World getting the crowd going before Incubus' Einziger, vocalist Brandon Boyd, drummer Jose Pasillas, DJ Chris Kilmore and bassist Ben Kenney took the stage.
The fivesome kicked things off with the stoner rock-esque "Love in a Time of Surveillance," lead single "Nimble Bastard" and more melodic "Glitterbomb" off of 8 (which was released on 4/21, a wink to old-school Incubus fans) interspersed with older songs, "Warning" and "Anna Molly." This proved to be the formula for the evening: a block of familiar songs followed by a new one.
Sadly, none of these older tracks were from Incubus' first albums, Fungus Amongus (1995) or S.C.I.E.N.C.E. (1997), but the crowd happily sang along to "The Warmth," "Pardon Me," "Drive" and "Stellar" from their breakout album, 1999's Make Yourself. The entire Bowl sang "Wish You Were Here" in unison before being treated to an outro cover of Pink Floyd's "Wish You Were Here."
Incubus have been together for over 25 years, and their cohesion was palpable during "Pistola," "Sick Sad Little World," which featured a killer electro breakdown from Kilmore and searing solo by Einziger, and the instrumental "Make No Sound in the Digital Forest" where the thundering rhythms from Pasillas and Kenney particularly stood out. Boyd's voice faltered a bit throughout the night, but when he picked up a guitar and sang perennial live favorite "Pantomime," it was clear that he can still command an entire amphitheater. His delivery of my favorite track from 8, "Loneliest," was also a highlight.
They closed out the evening with two songs from 2001's Morning View, the pulse-quickening "Nice to Know You" and super mellow "Aqueous Transmission." The latter was the perfect end to an evening of reflecting back on memories from the Hollywood Bowl and moments from the past 20-plus years that were set to a soundtrack of songs from the catalog of this SoCal band.
Video Slider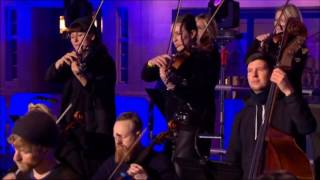 Win Tickets to See Pete Tong at Hollywood Bowl
Pete Tong is back in Los Angeles, and your chance to see him perform is at Hollywood Bowl on Thursday, Nov. 9. We are giving away complimentary tickets to the show. For a chance to enter to win, email us at
[email protected]
with "Pete Tong" in the subject line and tell us why you would like to go.